Ingredients and method
Ingredients
Sushi rice (for example Akita rice or Koshihikari)
Rice vinegar
Fresh salmon
Fresh tuna
King crab
Langoustine
Salmon roe
Cockles
Scallops
Gamba Rosso
Yuzu zest
Caviar
Hijiki, Japanese seaweed
Mini cucumber pickled with Dutch lemongrass
Chives
Sesame seeds
Katsuobushi (dried bonito flakes)
Sansho Leaves
Shiso Purple
Shiso Green
Codium
Pepquiño
Kikuna Leaves
Kaffir Lime Leaves
Tahoon cress
Thai basil
Dashi
Method
Cook the rice, cool it down, and marinate with a splash of rice vinegar.
Lightly sear the scallops (in Kaffir Lime Leaves oil) and langoustine with a kitchen torch.
Poach the cockles until they open and marinate them in soy sauce, dashi, and Tahoon Cress reduction (broth with Thai basil and Tahoon Cress).
Cover the bottom of the plate with a layer of rice.
If necessary, cut all the fish into equal sizes and season them separately with vintage soy sauce.
Decorate the plate with Japanese seaweed and the types of fish over the rice.
Place the salmon roe between the different types of fish.
Slice the Pepquiño and cucumber into thin slices and elegantly garnish the dish.
Garnish with some caviar and Codium.
Place the little leaves of Sansho Leaves on the dish.
Create mounds of Katsuobushi.
Finish with Kikuna Leaves, Shiso Green, and Shiso Purple for an optimal flavor experience of the dish.
Recipe: Kelvin Lin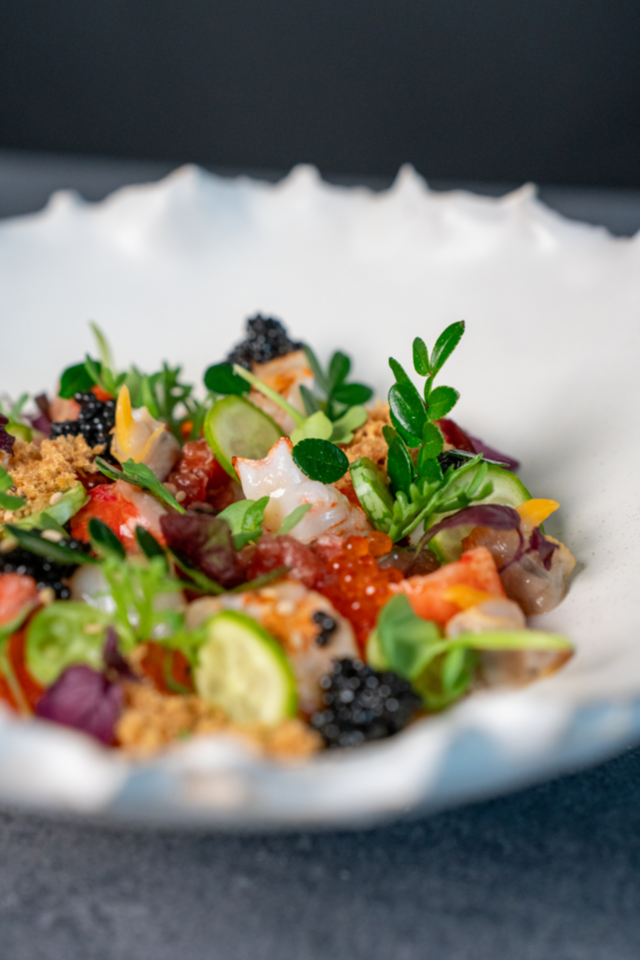 Related recipes
Gastronomical masterpieces
Related products
Say yes to the cress