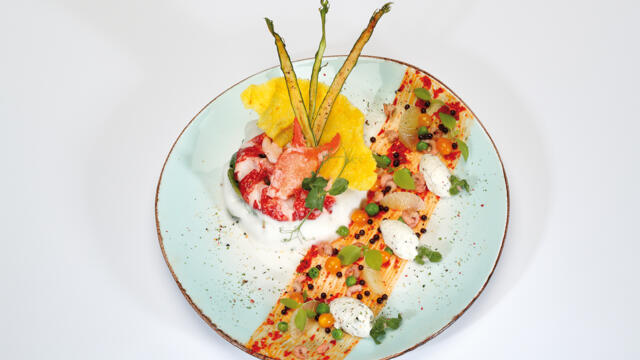 Salad of Oosterschelde lobster and cold foam of Oijens blond beer
Ingredients
(For 4 servings)
Lobster:
2 400/500 g Eastern Scheldt lobsters
2 l court bouillon
Oijens blond beer foam:
1 bottle of Oijens blond beer
1 tbsp pro espuma
2 sheets of gelatin
juice of half a lime
Dried green asparagus:
4 green asparagus
1 tbsp smoked olive oil
1 tbsp sea salt
Pepper coulis:
2 red peppers
2 cloves of garlic
2 sprigs of thyme
2 tbsp olive oil
salt
pepper
Mustard Cream:
150 g crème fraîche
2 tbsp Limburg coarse mustard
juice of half a lime
1 tbsp walnut oil
2 tbsp thyme honey
pepper and salt
Spinach salad:
200 g young spinach
3 shallots
30 g wakame
4 tbsp olive oil
2 tbsp Pedro Ximénez Sherry vinegar
salt
lime pepper
Garnishes / Decoration:
20 yellow Tomberries
fresh peas
40 g Dutch shrimps
2 limes
black salmon trout eggs
4 saffron crackers
chives
seaweed pepper
Affilla Cress
Limon Cress
BlinQ Blossom
Method
Oijens blond beer foam:
For the beer foam, soak the gelatin in cold water. Heat a small portion of the beer and let the gelatin dissolve in it. Remove from heat and mix in the pro-espuma and stir until no lumps are left. Then mix in the rest of the beer and add a few drops of lime juice to taste if necessary. Pour the mixture into a siphon / kidde and screw on at least 2 gas cartridges. Then put it in the refrigerator for at least 2 hours.
Lobster:
Boil the lobster in the court bouillon for 8 to 10 minutes, then remove it from the liquid and let it cool down.
Crack the lobster shortly before serving, mix the meat from the knees into the spinach salad at the last minute, and use the tail and scissors to garnish.
Dried green asparagus:
Cut the asparagus lengthwise into nice long thin slices. Place them on a tray with a greaseproof paper and sprinkle them lightly on both sides with sea salt. Sprinkle them lightly with the smoke oil and let it dry for at least 24 hours in a warm cupboard at a temperature of ± 60°C.
Pepper coulis:
For the coulis, cut the bell pepper into 4 pieces and remove the seeds. Grill these in a grill pan or on a Green-egg BBQ. Then place on a dish and pour olive oil over it, lightly sprinkle with chopped thyme and a clove of chopped garlic. Let it cook in an oven or in the Green-egg for 10 to 12 minutes and then let it cool down.
Beat in a food processor until smooth and season with sea salt and pepper.
Mustard Cream:
For the mustard cream, beat the crème fraîche until light and add the mustard, honey, walnut oil and lime juice. Season with salt and pepper and then put immediately in the refrigerator.
Spinach salad:
Make a salad of the washed and picked spinach at the last minute and mix in the seaweed, finely chopped shallots and pieces of lobster. Add the olive oil and sherry vinegar and season with salt and lime pepper if necessary.
Format:
Place a ring with a diameter of 12 cm on a plate. Divide the spinach salad over the rings and fill at least half. Cut the tail of the lobster into nice thin slices and put it nicely round in the ring, put the lobster scissors upright in the middle of the ring. Insert 2 or 3 slices of dried asparagus. Spread a nice strip of bell pepper coulis over the entire length of the plate with a wide brush. Make nice small quenelles from the mustard cream and divide them over the bell pepper coulis. Garnish the dish with Affilla Cress, Limon Cress and BlinQ Blossom and divide all other garnishes as you see fit and top with some seaweed / lime pepper. Only add the cold beer foam at the last moment and serve immediately.
Recipe: Marco van Oort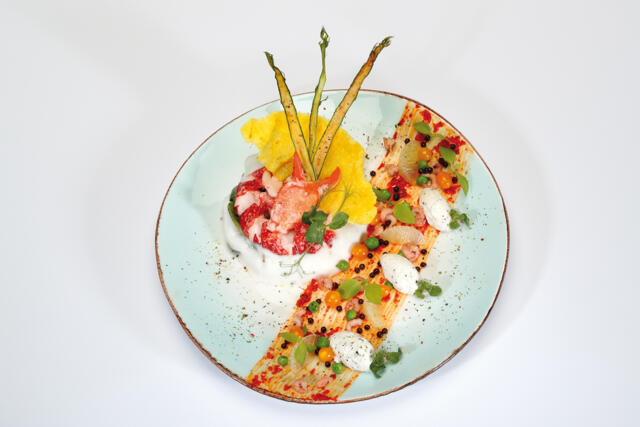 Related recipes
Gastronomical masterpieces
Related products
Say yes to the cress