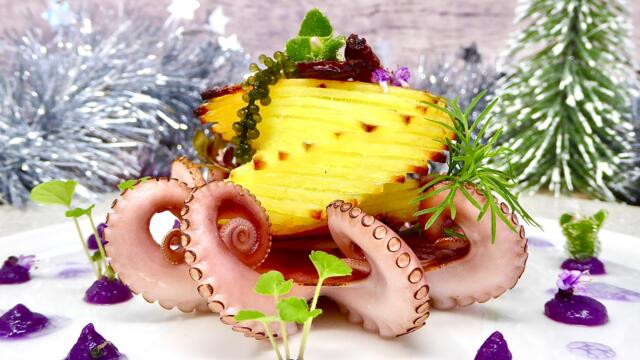 Octopus and roasted potato twist
Ingredients
(For 4 portions)
4 Moai Caviar
4 Paztizz Tops
4 BlinQ Blossoms
2 stems of Zallotti Blossom
1 punnet Atsina Cress
1 punnet Adji Cress
300gr pureed red cabbage
4 medium King Edwards potatoes
4 small cornish octopus
1L fish stock
30gr melted butter
4 tbsp olive oil
juice of ½ a lemon
4 soaked sultanas in water
fine sea salt and white ground pepper
Method
Cook the cabbage in a vegetable stock. 
Drain the cooked red cabbage into a fine sieve and keep 50ml of cooking juice for the dressing. 
Puree the cabbage and season to taste, pour in a small squeeze bottle. 
Peel the potato, trim them to a rectangular shape and cut out some fine slices using a mandolin. 
Brush each slice with the melted butter and put them back together in a spiral way. 
Lift the potato stack gently, brush more butter over the top and cook in an oven at 220℃. 
Meanwhile, plunge the octopus in the cold fish stock, cover with a lid and bring to boil. 
Boil for 5 minutes, take off the heat and leave in the stock for another 10 minutes. 
Bear in mind that is a very small octopus, so do not overcook it! 
To make the dressing, emulsify the 50ml of red cabbage cooking juice with the lemon juice and the olive oil. 
Place the octopus at the centre of the plate and add the potato stack on top. 
Squeeze some cabbage mousseline dots around the plate and add the one soaked sultana after cutting it into two. 
Add the microgreens, cress and speciality plants. 
Finish with the dressing and serve. 
Recipe: Franck Pontais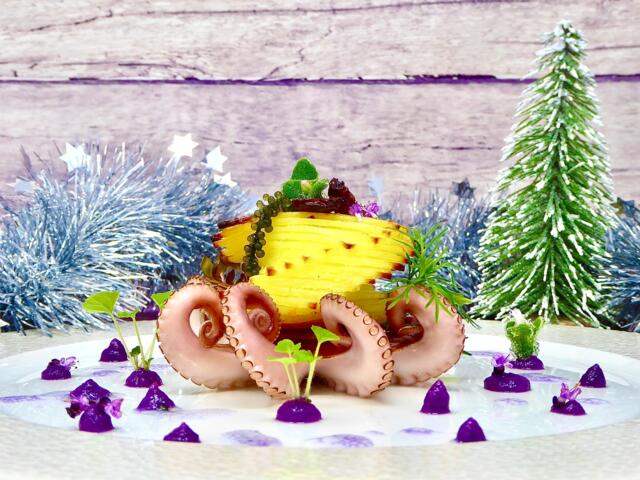 Related recipes
Gastronomical masterpieces
Related products
Say yes to the cress