Ingredients
For a dozen of mendiants
½ punnet Shiso Green
3 flowers Floregano
3 blossoms Jasmine Blossom
2 stems of Zallotti Blossom
12 pieces raspberries
150gr dark chocolate 75%
12 gree pistachio's
1 tsp egg white
40gr caster sugar
Method
Melt the dark chocolate in a bowl, bain marie style. 
Mix well together the green pistachio with the sugar and egg white and put them in an oven at 150°C for 5 to 6 minutes. 
Cut the raspberries or use them whole. 
Using a non-stick baking parchment paper, make a dozen of regular drops with the melted chocolate. 
On top of each chocolate mendiant, place one sugar coated pistachio, a few petals of Floregano, a few petals of Jasmine Blossom, a few flowers of Zallotti Blossom, a raspberry, and a few leaves of Shiso Green.  
Let set in a cool room and enjoy. 
Recipe: Franck Pontais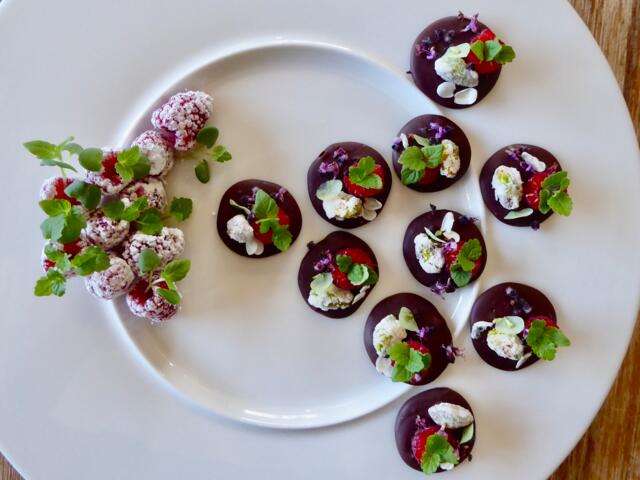 Related recipes
Gastronomical masterpieces
Related products
Say yes to the cress