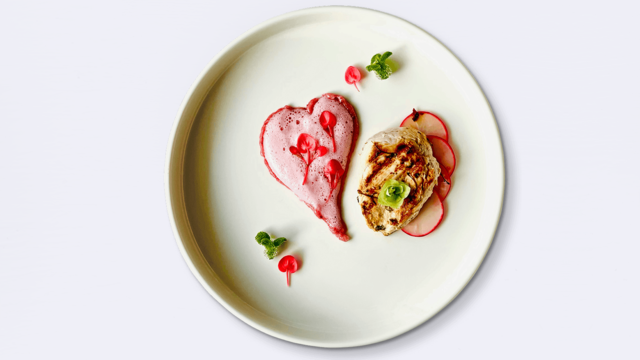 Methi Malai Partridge
,
Jomon Kuriakose
Cream cheese and yoghurt marinated Partridge breasts further flavoured with dried fenugreek leaves.
Ingredients
Methi Malai Partridge: 
2 Partridge breasts 
2 tbsp of cream cheese 
1 tbsp of ginger, peeled and chopped 
3 tbsp of double cream 
1 lime, juiced 
1 lime zest  
1 green chilli, chopped 
3 tbsp of plain yoghurt 
1/2 tbsp of ginger paste 
1/2 tbsp of garlic paste 
1/2 tsp cardamom seeds, ground 
1/2 tsp Garam Masala 
1 tbsp Dried fenugreek leaves
Floregano
Alpine Gin Foam:
50 ml Alpine gin
2 nos gelatine sheets
(softened in cold water)
1 tsp hot water
Red currant and Grape chutney:
1 cup seedless black grapes halves 
½ cup red current  
1 tsp cumin seed 
1 pinch black salt 
2 tsp sugar 
1 tsp vegetable oil
Apple Blossom
BlinQ Blossom
Method
Methi Malai Partridge: 
Clean and cut Partridge breast, trim off any excess. Wash and leave to drain. 
Coat the partridge breast in the lime juice, ginger and garlic paste and salt. Mix well and leave to marinate in the fridge for as long as you wish - the longer you leave it the more intense the flavour will be.
Add the yoghurt, cream cheese, double cream, dried fenugreek leaves, ginger, green chillies and cardamom powder and Garam Masala  to a bowl and mix well until combined.
Add the marinated partridge breast, mix again and leave in the fridge for approximately 1 hour before grilling. 
To cook, thread the partridge onto skewers and grill in a medium-hot tandoor, or over a barbecue for approximately 1 minute. Turn over and grill for a further 1 minute. 
Alpine Gin foam:
Dilute gelatine into hot water. 
Mix it to alpine gin after reaching room temperature.
Keep the mixture in fridge for couple of hours. 
Remove it from the fridge after it became gel consistency. 
Blend the mixture with a use of hand blender until it has some froth on top. 
With a help of culinary spoon take out those foam or froth to garnish the plate. 
NB: because of gelatine this foam will stay longer on the plate than usual ones.  
Red currant and grape chutney:
Heat oil in a pan add vegetable oil. 
Add cumin seed after oil is heated up. 
Wait until the cumin crackle in oil and add grapes. 
Cook the grapes with rock salt until its softened and ass red currant and sugar. 
Blend this mixture and pass it thorough a strainer.
NB: I drew a heart sign on plate using this chutney in a sauce bottle then filled that heart with Gin foam. therefore, straining the chutney is very important to get rid of grape and red currant skin and cumin seeds, otherwise those will be stuck on the sauce bottle nose. 
Garnish:
Apple Blossom
Floregano
BlinQ Blossom
Recipe: Jomon Kuriakose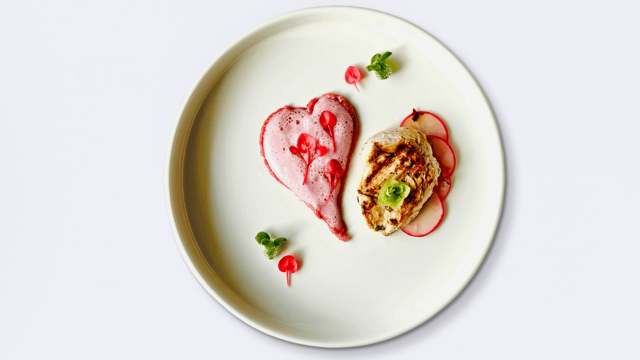 Related recipes
Gastronomical masterpieces
Related products
Say yes to the cress