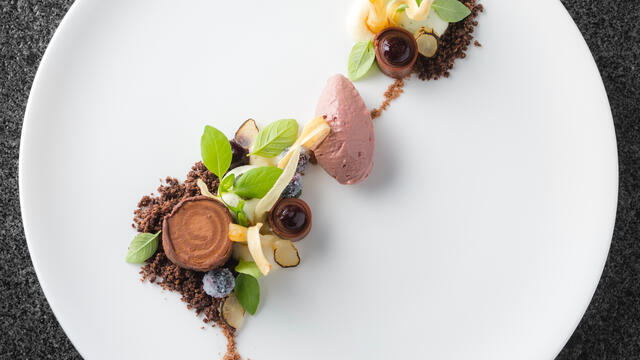 Manjari, cassis, salsify, Limon Cress
Pastry chef Makoto Fujii of restaurant Himmel un Äd makes unusual combinations in which the products reach their full potential.
Ingredients
Chocolate crumble
cassiscoulis
salsify chips
For the manjari mousse:
10 g egg yolk
30 g of egg
20 g of sugar
100 g manjari couverture
200 g of lumpy cream
For the manjari ganache:
100 g manjari couverture
200 g of cream
40 g corn syrup
1.5 g of agar
2 g of leaf gelatin
10 g softened butter
For the ice cream of cassis and chocolate:
65 g blackcurrant puree
100 g of cream
125 g of milk
15 g of trimoline
47 g of sugar
60 g egg yolk
75 g manjari couverture
For the sugared currant berries:
freeze-dried cassis berries
sugar
protein
For the baked salsify:
salsify
salt
beurre noisette
For the salsify cream:
100 g fried salsify
25 g of sugar
15 g of milk
30 g of cream
For the caramelized parts of salsify:
5 parts of salsify
25 g of brown sugar
10 g of brown rum
For the Limon Cress powder:
For Limon Cress coulis:
40 g of frozen powder from Limon Cress
80 g of sugar syrup
40 g of lemon juice
2 g of agar
2 g invert sugar
For Limon Cress's panna cotta:
20 g Limon Cress powder
50 g of sugar
110 g cream
1/2 vanilla pod
4 g leaf gelatin
120 g of creamy cream
Method
For the mousse, melt the couverture, beat the yolk, egg and sugar ruban and add the couverture. Finally, fold in the lumpy cream.
For the ganache, melt the couverture, mix the glucose with the cream and agar and bring to a boil.
After 1 minute add the soaked gelatin, mix the mass with the melted couverture, add the butter, pour into a plastic-lined mould and allow to set.
Spread the mousse thinly on the ganache, roll up thinly and freeze. Brush the outside with melted couverture and cut into rolls. Prepare the ice cream as an anglaise, ripen and turbine.
Brush the berries with protein and sugar and dry in the drying tower. Wash and peel the salsify, cut in half, brush with the butter, salt lightly, wrap in aluminium foil and bake in the oven at 180°C for 30 minutes.
Puree all ingredients for the cream and rub through a sieve. Caramelize the sugar, deglaze with rum and roll the salsify points in it. Pacify the petals for the powder 3 times, freeze and repeat 3 more times.
Mix the sugars for the coulis, boil the liquid with the agar and add all the ingredients. Allow to cool and blender until smooth.
For the panna cotta, bring the cream, the sugar, the powder and the vanilla to a boil, dissolve the soaked gelatin in it, let it cool and fold in the lumpy cream. Freeze in hemispherical shapes. Garnish the plate with Limon Cress.
***
Restaurant Himmel un Äd
Kaygasse 2 – Keulen
T  0049 221 200 80
www.hotel-im-wasserturm.de
Recipe: Makoto Fujii
Source: Pâtisserie & Desserts - 44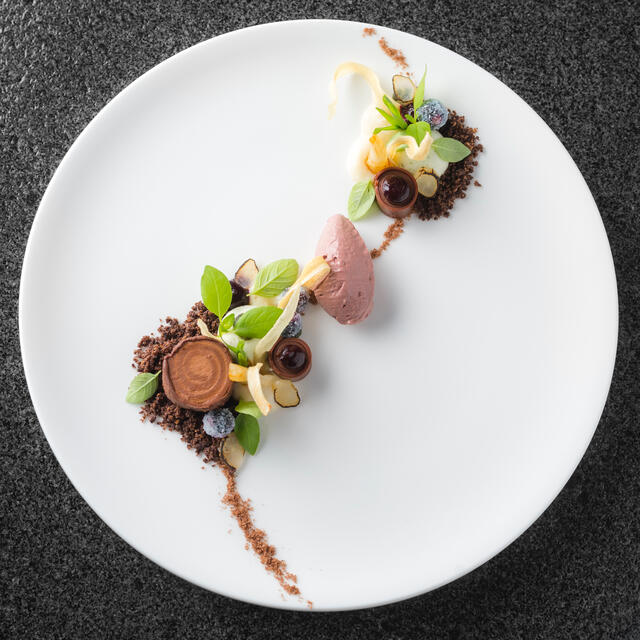 Related recipes
Gastronomical masterpieces
Related products
Say yes to the cress