Ingredients
1 fillet of mackerel  
1 lemon 
5g sea salt 
5g sugar 
250g fresh dill 
50g of chives 
250g flat leaf parsley 
100g vegetable oil 
1 Sechuan Button 
100ml double cream 
50g smoked mackerel 
Method
Debone and dice the mackerel fillet. 
Finely chop 50g of dill, 50g of flat leaf parsley, 50g of chives and the Sechuan Button. 
Marinade the mackerel in salt, sugar, the juice of half the lemon, the chopped herbs and Sechuan Button. 
Peel and dice the celery and blanch in boiling salted water for 30 seconds then immediately plunge into ice water. 
Peel and dice the apple and together with the blanched celery add this to the mackerel mixture. 
Place the remaining parsley and dill in a blender and blend with the vegetable oil on full power for 2 minutes. 
Place the mixture in a saucepan and bring up to 100°C while stirring constantly, then immediately pour into a bowl over ice through a coffee filter. 
Gently warm the cream with the smoked mackerel to infuse the flavour and blend till smooth, season with lemon juice. 
Once chilled mix the cream sauce with the herb oil to produce a split sauce. 
To serve spread the mixture over a paper towel to drain excess liquid. 
Place a small amount of the mackerel tartare in the middle of the bowl and sauce with the split cream sauce.  
Recipe: Thomas Martin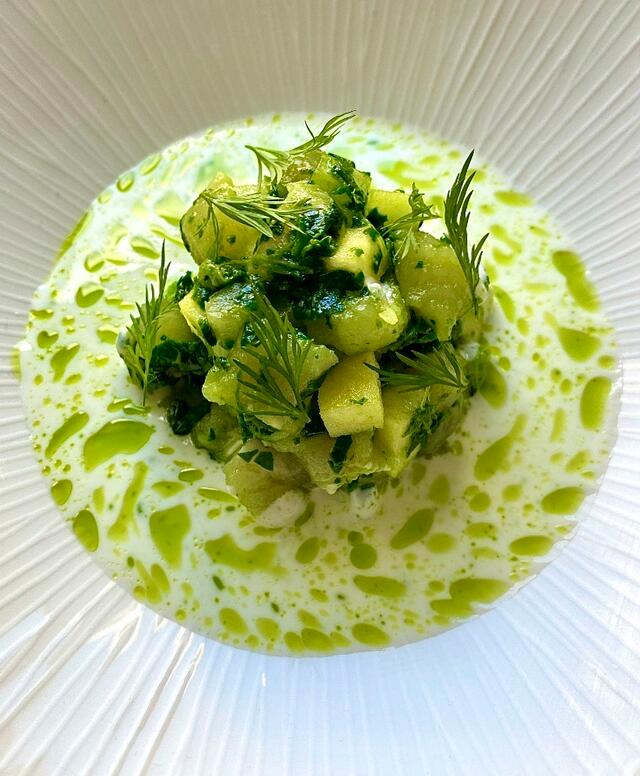 Related recipes
Gastronomical masterpieces
Related products
Say yes to the cress