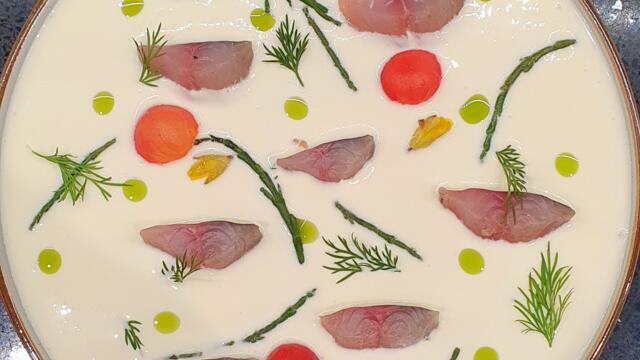 Sechuan Button cured mackerel
Sechuan Button cured mackerel, buzz button pickled gorse, samphire, electric herb oil and buttermilk.
Ingredients
Mackerel:
25g salt per fillet  
25g sugar per fillet  
orange, lemon, lime - zests only  
5g Sechuan Button powder  
Mackerel fillets 
Buttermilk sauce:
75ml yoghurt
75ml buttermilk
salt
lime juice
Electric herb oil:
handful mint
3 juiced limes
handful parsley
handful coriander
handful wild garlic
1 whole perserved lemon
8 Sechuan Buttons
200ml rapeseed oil
Pickle:
200ml white wine vinegar
100g white sugar
3 tsp coriander seed
1 star anise
6 Sechuan Buttons
gorse flowers
samphire
Method
Mackerel:
Dehydrate Sechuan Buttons over night in a low oven, blitz to a powder.  
Mix salt, sugar, Sechuan Button powder and zests together well and then coat the fillets entirely with the cure on a flat tray. Leave in the fridge for 1hr 30, wash cure off entirely in fresh cold water and allow fillets to air dry on a clean cloth. 
Buttermilk sauce:
Whisk all ingredients together and check seasoning.
Electric herb oil:
Blitz all ingredients well together in a blender, transfer sealed container overnight, pour into muslin and leave hanging over a bowl to catch the flavoured oil, never squeeze the muslin, this will cause a cloudy oil.
Pickle:
Heat all ingredients gently until sugar has fully dissolved, leave to cool and infuse before pouring over gorse and samphire in sterile jars.
Serve: 
Pour buttermilk sauce on the bottom of the plate and dot with with electric herb oil, peel the first layer of skin from the mackerel fillets and slice into miniature steaks, laying them in a sporadic pattern on the plate.   
Garnish with samphire, gorse and dill. 
Recipe: Darryl Quested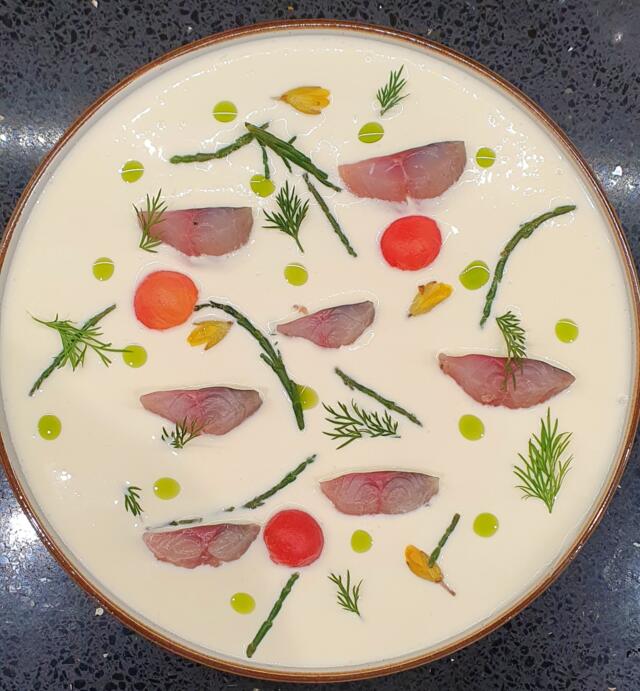 Related recipes
Gastronomical masterpieces
Related products
Say yes to the cress