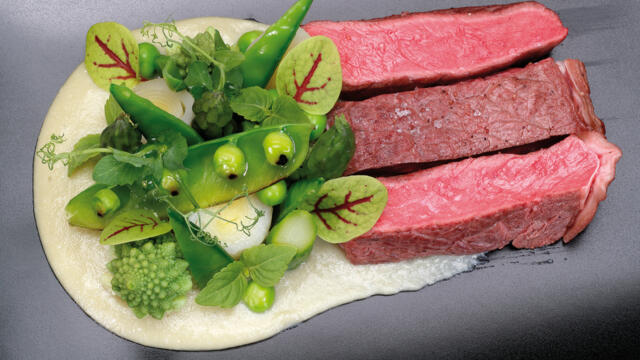 Entrecote from the MRIJ Beef
Entrecote from MRIJ Beef, potato puree with Bleu de Wolvega, garden of green vegetables.
Ingredients
(For 4 servings)
entrecote from the MRIJ Beef
100 g mashed potatoes
125 g Bleu de Wolvega
50 g cream
12 roses romanesco
12 green asparagus
2 tablespoons of fresh peas
1/2 cup of pods
2 stalks of leeks to cut into pieces
Lime Vinaigrette:
1 part lime juice
1 part olive oil
pepper and salt
Vene Cress
Shiso Green
Affilla Cress
Method
Potato puree with Bleu de Wolvega:
First make a nice firm potato puree and mix it with the cream and cheese.
Then rub through a fine sieve. Salt and pepper the entrecote. Shortly bake and bring to cuison. 
Beans:
Halve four "beans" from the peas, blanch and roast them whole.
Leeks:
Cut the leek into pieces of about 3 cm.
pepper, salt and butter.
Steam at 100°C for 12 minutes.
Clean the rest of the vegetables and blanch briefly.
Recipe: Glenn Luijben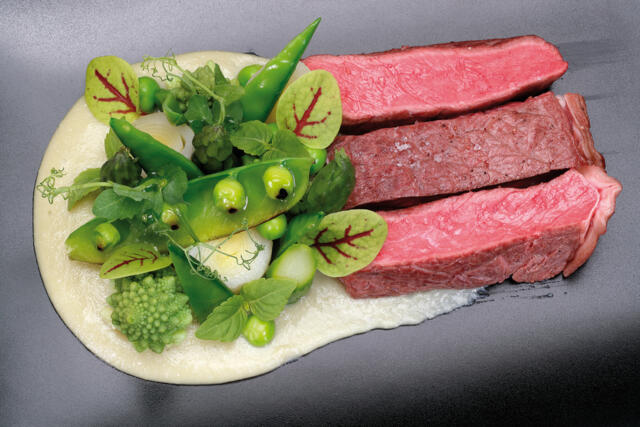 Related recipes
Gastronomical masterpieces
Related products
Say yes to the cress