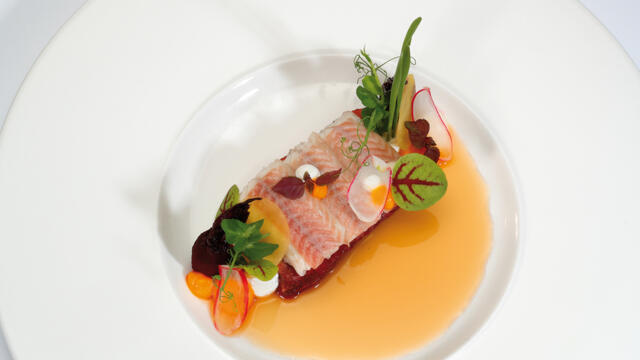 Bacon from the Livar and smoked eel from the Rijpelaal
Bacon from the Livar, smoked eel from the Rijpelaal from Brabant, celeriac broth, buttermilk curd, braised beetroot and coffee.
Ingredients
(For 8 portions)
Bacon marinade:
1 kg pork belly
750 ml beetroot juice
1/2 clove of garlic
75 g of salt
50 g anchovies
50 g coffee beans
1 branch of rosemary (leaves)
Tuber broth:
1 celeriac
2 liters of water
100 g butter
50 g Kikkoman
Xantana
Buttermilk curd:
1 liter buttermilk
pepper and salt
zest of 1/2 lime
Coffee cream:
100 g ground coffee
500 ml sunflower oil
40 g of protein
45 g whole yogurt
225 g coffee oil
pinch of salt
 
Vene Cress
Affilla Cress
Shiso Purple
Wheat Grass
Method
Bacon marinade:
Blend everything except the coffee beans and then add the coffee beans.
Bring to a boil and let it steep overnight. Vacuum together with the pork belly and leave to lie for two nights.
Remove the pork belly from the marinade and vacuum again. 63°C, cook in the Röner for 8 hours.
Let cool. Cut pieces and fry until crispy on low heat.
Peel celeriac and dry the skins.
Cut the tubers into pieces and stew in the butter over low heat until dark brown.
Deglaze with water and add the dried peels.
Let it steep and freeze for one day.
Filter ice.
Season with kikoman and bind with Xantana.
Vacuum 3-4 times until the air bubbles are out.
Buttermilk curd:
Hang up buttermilk and let it hang for two days.
Season with pepper, salt and lime zest.
Coffee cream:
Let it soak together for 24 hours and strain through a cloth. Mix the salt, egg white and yogurt together with a stick blender. Add the oil drop by drop until a homogeneous mass is formed.
Finish with Vene Cress, Affilla Cress, Wheat Grass and Shiso Purple.
Recipe: Glenn Luijben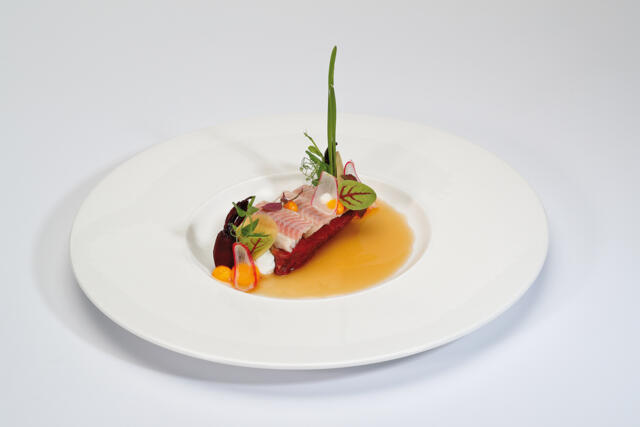 Related recipes
Gastronomical masterpieces
Related products
Say yes to the cress