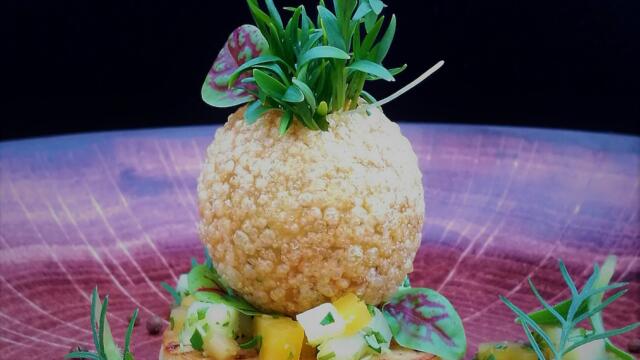 Caramelized baked celeriac and Pani Puri
Caramelized baked celeriac and Pani Puri filled with Ghoa Cress and avocado guacamole and root vegetable salsa.
Ingredients
(4 to 6 portions)

Root vegetable salsa:
1 swede (yellow turnip)
1 parsnip
½ diced white onion
juice from ½ lime 
1 punnet Ghoa Cress
Season to taste
Caramelized celeriac:
1 small celeriac ball
1 tbsp olive oil
Season to taste
Guacamole:
1 ripe avocado 
½ tsp lemon juice
Seasoning
Method
Root vegetable salsa:
Peel, cook and dice the root vegetables and put into a mixing bowl.
Add the lime juice, the chopped Ghoa Cress and the seeds (from the same punnet). 
Season to taste, mix well and keep aside.
Caramelized celeriac:
Bake the whole celeriac skin on in the oven at 150°C for 1 hour.
Once cooked, peel the skin off and cut into thick slices.
Using a round cutter cut out some pieces and caramelize them in a hot frying pan with a bit of olive oil.
Guacamole:
Proceed by making the guacamole as you would normally do.
You can and buy the Pani Puri ready to fry, just lay on a tissue paper once it's puffed, crack the top open with the back of the spoon and fill with Guacamole to a third, then add the root vegetable salsa and finish with a topping of fresh Ghoa Cress. 
Dress the plate as shown on the photo and add a few leaves of Paztizz Tops and Vene Cress.

Recipe: Franck Pontais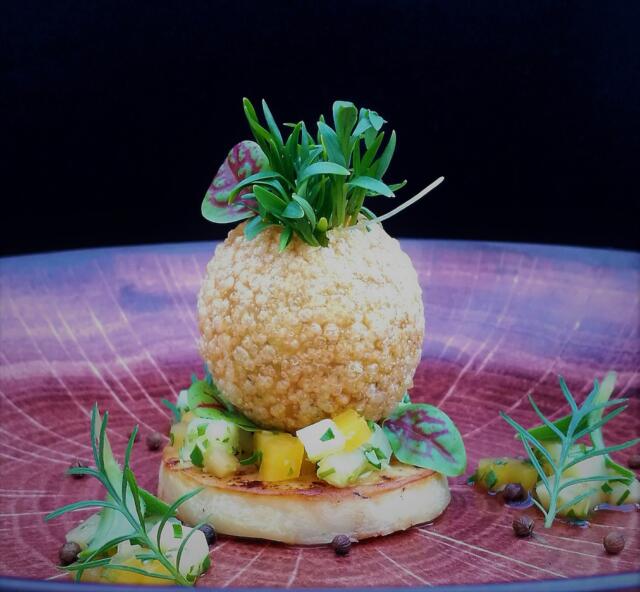 Related recipes
Gastronomical masterpieces
Related products
Say yes to the cress