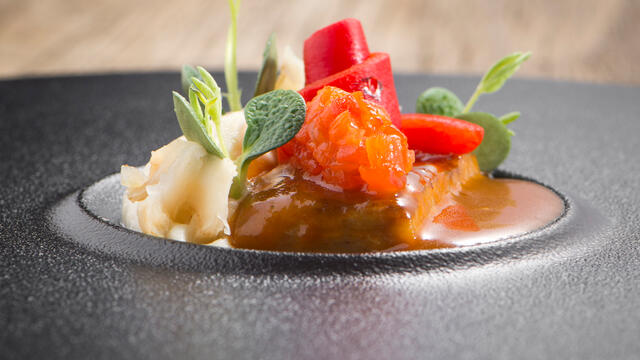 Pig's chin, Cardamom Leaves, bell pepper and celeriac
Marcel Fischer is a versatile chef, lost to his Thuringia and her rich eating traditions. The cresses are an obvious extension of this for him.
Ingredients
For the pig's chin:
1 kg of parched pork chin
50 g of tomato paste
15 cl of red wine
50 g of paprika puree
7 Cardamom Leaves
2 sticks of cinnamon
2 carrots
1/2 celeriac
2 onions
15 g of paprika
5 g muscovado sugar
salt
pepper
veal gravy
For the bell pepper jam:
100 g peeled red pepper
20 g shallot
20 g jelly sugar
2 cl white wine vinegar
1 sprig of rosemary
salt
For celeriac puree:
1 kg of celeriac
100 g of butter
100 g of cream
pepper
salt
celery salt
For the marinated pepper ribbons:
2 red peppers
2 cl of thistle oil
1 sheet of Cardamom Leaves
salt
Method
Brown the pork chin all around and add carrot, celery and onions. Then add tomato paste, sugar and paprika and fry briefly.
Deglaze with the wine, reduce to half and top with the gravy. Add the Cardamom Leaves and cover for 90 minutes in the oven at 160°C.
Remove the meat, reduce, blender, pass the gravy and warm the pork chin in it. For the jam, finely chop the bell pepper and shallot, mix all the ingredients and compose.
For the puree, cook the celery in salted water. Smoke the celery briefly, blender along with the warm butter and cream and season.
Burn the peppers and peel them. Divide into quarters and vacuum with the other ingredients. Cook in a 65°C water bath for 20 minutes.
Dress all the components on the plate, spoon the gravy and garnish with the Lupine Cress.
***
Spa & Golfresort Weimarerland
Weimarer Str. 60, Blankenhain
Tel. 0049 36459 61640
www.golfresort-weimarerland.de
Recipe: Marcel Fischer
Source: Culinaire Saisonnier 88 - Spring 2018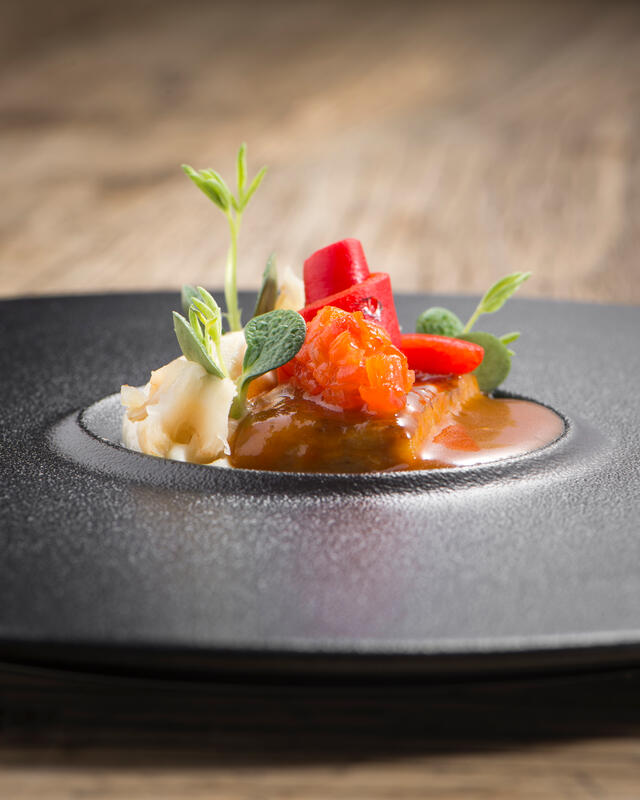 Related recipes
Gastronomical masterpieces
Related products
Say yes to the cress