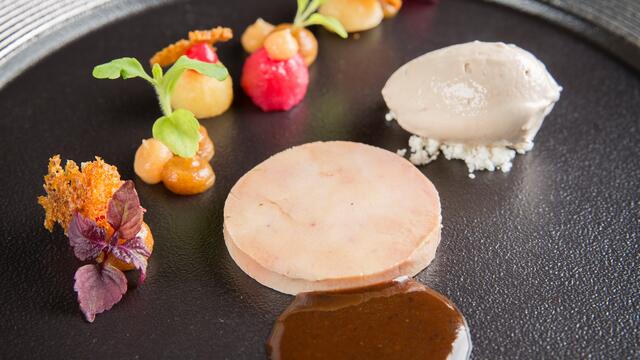 Goose liver terrine with quince, date and Shiso Purple
Working with a local farmer's wife who owns a vegetable garden planted at his request brings Alexander Wulf closer to his ultimate goal: a modern global kitchen with Russian touches.
Ingredients
Shiso Purple
Shiso Green
sauce coq au vin
For the tureen:
1 kg of cleaned foie gras
8 g of brine salt
8 g of salt
2 g of sugar
2 g of pepper
2 cl cognac
1 cl white port
2 cl calvados
For the foie gras ice cream:
400 g foie gras terrine
380 g foie gras
120 g egg yolk
150 g of glucose
5 dl reduced white port
240 g of sweet white wine
For the pickled quince:
20 quinces
1 dl apple juice
2 cl beetroot juice
thyme
salt
pepper
80 g Shiso Purple
For the quince puree:
10 peeled and cut quinces
1 l apple juice
1 mp salt
1 tsp chopped lemongrass
For the date puree:
300 g pitted dates
juice of 1 orange
Method
Mix all ingredients for the tureen and marinate under vacuum for 24 hours. Fill a terrine mould and steam in the oven at 56°C for 20 minutes.
Blend all ingredients for the ice cream at 80°C, cool and freeze in paco or frix cups.
For the date puree, mix the dates and juice, freeze in paco cups and blender until smooth. Make balls with a Parisienne drill.
Bring apple juice, thyme and pepper to a boil, add beet juice to half of the juice and allow to cool.
Coarsely chop the Shiso Purple, mix with the marinade with the beet juice and half of the quince and cook under vacuum.
Cook the other quince balls in the natural marinade. For the quince puree, cook all the ingredients on medium heat and blender until smooth.
Place a slice of the tureen on the plate and garnish the 2 preparations with quince balls. Finish with the purees, ice and cresses.
***
Restaurant St. Jacques

Feldstrasse 50, Heinsburg, Duitsland
Tel 0049/2453 306 980
www.burgstuben-residenz.de
Recipe: Alexander Wulf
Source: Culinaire Saisonnier 91 - Winter 2018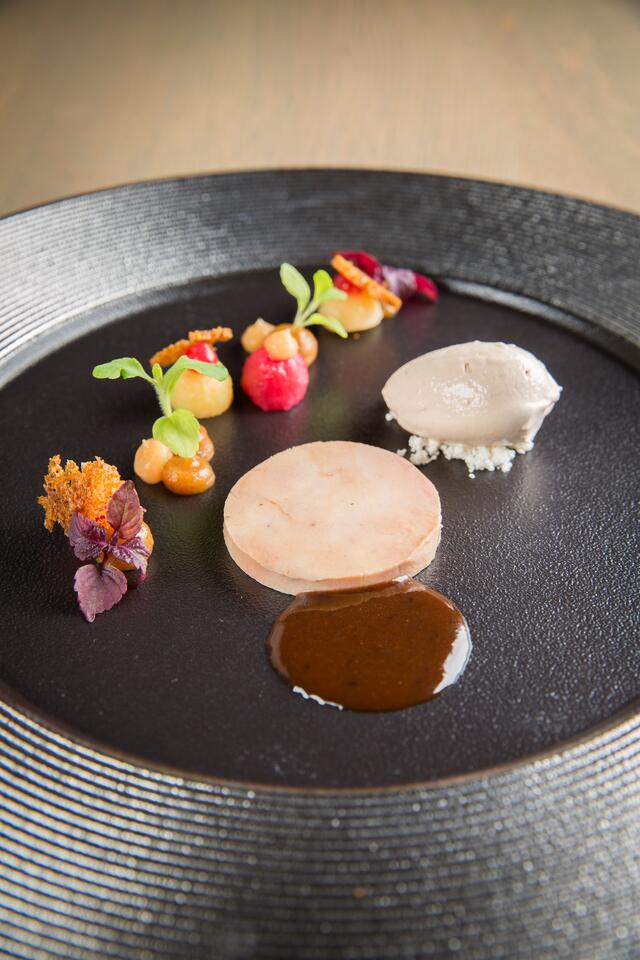 Related recipes
Gastronomical masterpieces
Related products
Say yes to the cress