Bison, Shiso, Kimchi
Anton Schmaus aims for a kitchen that respects the hinterland and produces simple yet perfectly prepared dishes.
Ingredients
For the kimchi paste:
40 g of kochugaro
30 g fine leek brunoise
60 g grated rettich
20 g of sesame oil
5 g garlic paste
25 g of sugar
For the bison:
600 g bison eye of round
sunflower oil
beurre noisette
pepper
salt
For the kimchi mayonnaise:
1 egg yolk
150 g of sunflower oil
5 cl roasted sesame oil
salt
kimchi paste
lime juice
For the glaze of shiso vinegar:
veal gravy
Shiso Purple wine vinegar
For the kimchi roll:
Shiso Leaves Purple
1/2 white cabbage
roasted sesame seeds
cumin powder
lime zest
lime juice
salt
Method
For the kimchi roll, dip the Shiso leaves in warm salted water and rinse cold after 40 seconds.
Blend all ingredients smooth for the pasta, let it ripen for 2 weeks in the refrigerator, brush the Shiso Leaves with this and let the leaves marinate airtight for 24 hours.
Finely chop the white cabbage, season with lime zest and juice, cumin powder and salt.
Place the marinated Shiso Leaves on stretch foil, spoon the white cabbage on top, roll tightly in the foil and then roll the roll through the sesame seeds. Reserve cool.
Season the bison eye of round with salt and pepper, bake all around in oil, cool down, vacuum and cook for 25 minutes in a water bath at 55°C.
Sear the meat in the beurre noisette before serving. For the glaze, bring the veal gravy and vinegar to a boil, reduce to slightly syrupy, brush in the bison meat and serve separately as gravy.
Make a slightly sour mayonnaise from all ingredients. Cut the candied bison meat, serve with small rolls of kimchi and garnish the dish with the cresses and the mayonnaise. Finally, add the shiso glaze.
***
Storstad
Watmarkt 5, Regensburg
Tel. 0049 9415 999 30 00
www.storstad.de
Recipe: Anton Schmaus
Source: Culinaire Saisonnier 81 - Summer 2016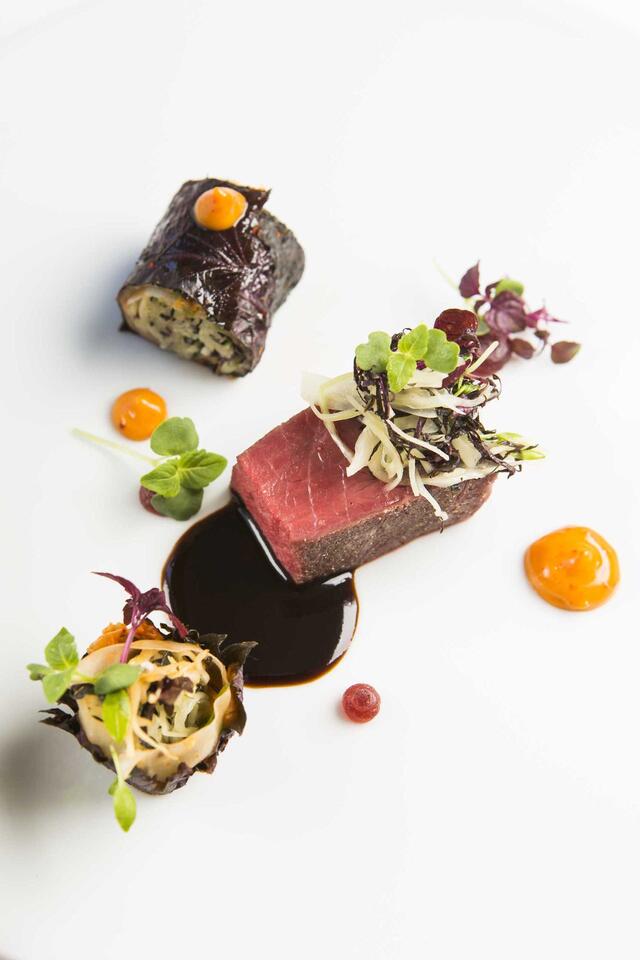 Related recipes
Gastronomical masterpieces
Related products
Say yes to the cress