Ingredients
(For 1 portion)
¼ white radish, cut into 2 slices
¼ red radish, cut into 2 slices
2 Shiso Leaves Green
2 Gangnam Tops
1 passion fruit
20 g ginger gel
30 g extra virgin olive oil
French frisée salat
Pickled herring (250 gr):
¼ cup sea salt
5 cups water, divided
250 g herring fillets
2 cups white ponzu vinegar
¼ cup raw sugar
1 teaspoon mustard seed
2 teaspoons whole allspice
2 teaspoons black peppercorns
1 Kaffir Lime Leaves
3 cloves
1 lemon, thinly sliced
1 medium red onion thinly sliced
Method
Pickled herring:
Heat 4 cups of water enough to dissolve salt. Cool brine down to room temperature. When it does, submerge the herring fillets in the brine and refrigerate overnight, or up to 24 hours.
Meanwhile, bring the sugar, vinegar, the remaining cup of water and all the spices to a boil.
Simmer 5 minutes, then turn off the heat and let this steep until cool.
When the herring have brined, layer them in a glass jar with the sliced lemon and red onion.
Divide the spices between your containers if you are using more than one.
Pour over the cooled pickling liquid and seal the jars.
Wait at least a day before eating.
Mix passion fruit pulp with oil and ginger gel. Roll the pickled herring with Shiso Leaves Green and cut into 2 pieces, serve together with radish, passion fruit dressing and salad.
Recipe: Marcel Thiele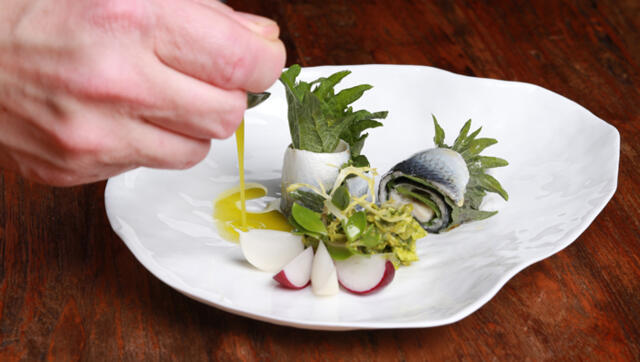 Related recipes
Gastronomical masterpieces
Related products
Say yes to the cress