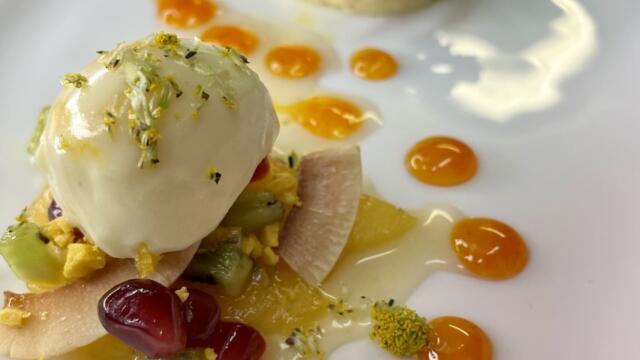 Honey roasted pineapple carpaccio
White chocolate, Sechuan Button and cardamom mousse with liquid mango centre, kiwi and pomegranate salsa, mango ice cream, salted coconut and chili syrup.
Ingredients
½ pineapple 
25g butter 
1 lime (zest for pineapple, juice for mango) 
50g honey 
spiced rum 
¼ mango 
4 cardamom pod (seeds removed) 
150g white chocolate callets 
2 gelatine leaves 
250ml whipping cream 
75ml milk 
1 egg 
25g sugar 
10 Sechuan Buttons 
50g fresh coconut shavings 
sea salt  
red chili syrup  
½ kiwi 
10 pomegranate seeds 
25ml sugar syrup 
mango ice cream 
dried crushed mango 
 50g dark chocolate callets 
Method
Prepare salted coconut by dehydrating coconut shavings lightly coated in sea salt.
Puree fresh mango with lime juice and freeze in ice cube trays. 
Reduce 1 red chilli in sugar syrup, blitz, pass and leave to cool.  
Soak gelatin in cold water. 
Heat milk and cardamom seeds, whisk together egg yolk and sugar, pour milk on to egg mix and  whisk well, return to a clean pan and cook out on a low heat until starting to thicken. Take off heat and add chocolate once melted add dissolved gelatin and blitzed buttons, pass through a fine sieve. Leave to cool and then fold in whipped cream. 
Half fill mould with mousse put into fridge or blast chiller for 5 minutes to start to set add 1 cube of mango puree to the center of each mousse top with remaining mousse and return to the fridge to set. 
Melt butter in a pan, add pineapple slices, lime zest and honey and start to caramelize, flambe with the rum, transfer to a tray and roast in the oven for 5 minutes until softened and golden brown. When cool press pineapple into a round mould. 
Dice kiwi and mix with pomegranate seeds and stock syrup. 
Temper dark chocolate and spread thinly onto bubble wrap, when set peel off and poke through holes. 
To assemble place the mousse on one side of the plate top with crushed mango, dress the plate with the chilli syrup, add the pineapple and top with salsa, salted coconut and ice cream top with crushed mango and sechaun button dust and top mousse with the chocolate honeycomb.
Recipe: Lindsay Prior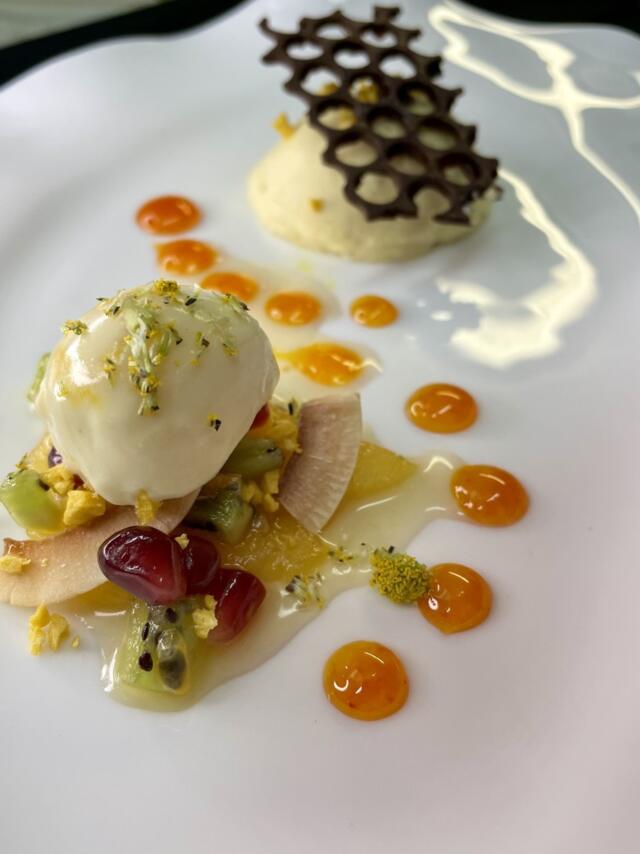 Related recipes
Gastronomical masterpieces
Related products
Say yes to the cress