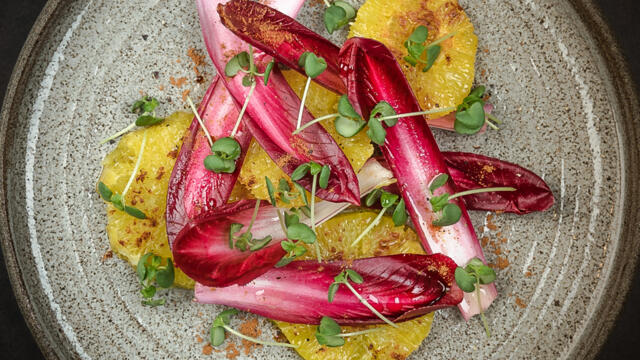 Red chicory salad with baked orange slices with gingerbread spices
,
Frank Fol – The Vegetables Chef®
Ingredients
(For 4 portions)
4 oranges
4 stumps of red chicory
Gingerbread spices - Verstegen
Arqan argan oil
Olive oil - Iluigi
Cup of Shiso Green - Koppert Cress
Black pepper - Verstegen
Coarse sea salt - Verstegen
Method
Red chicory:
Clean and wash the red chicory. Loosen the leaves.
Orange:
Peel the oranges with a sharp knife.
Then cut into slices of about 1 cm.
Bring a pan to the fire, some olive oil and heat up.
Place the slices in a hot pan and season with gingerbread spices.
Fry very briefly by turning over after 1 minute using a palette.
To finish off:
Place the lukewarm orange slices on the plates, alternating with the red chicory.
Sprinkle with some gingerbread spices and sea salt.
Finish with the sprigs of shiso and a few drops of argan oil.
Recipe: Frank Fol - The Vegetables Chef®
Photo: Wim Demessemaekers, Photographer | @wim_dmskrs
Preparation time: 20 minutes 
Techniques: veggies 
Plate: Wild Grey Plate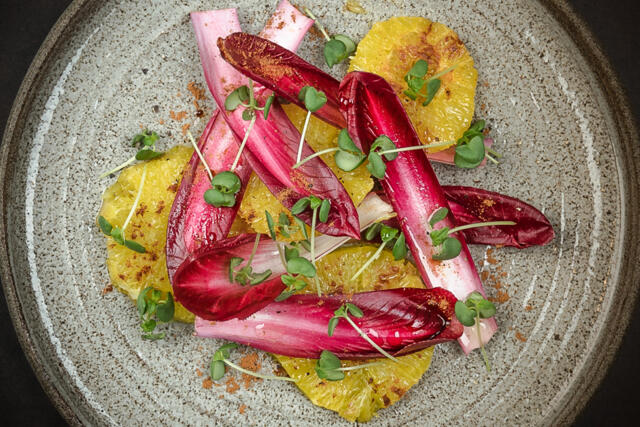 Related recipes
Gastronomical masterpieces
Related products
Say yes to the cress