Ingredients
(For 4 portions)
8g potato crisps
100g dark chocolate
100g clementine puree
45g unsalted butter
300ml double cream
2 tsp caster sugar
2 egg whites 
2 gelatin leaves
Shiso Green
Method
Melt the chocolate on a stove in a Bain Marie and dip the potato chips into it. 
Let the chips cool down on baking paper.
Soak the gelatine leaf in cold water to softened and heat up the double cream in a saucepan.
Press the gelatine using your hand to remove the excess of water and mix into the hot double cream, leave to cool down for 20 minutes. 
Bring to simmer the clementine puree with the butter and let cool down aside for a few minutes.
Whip the egg white to soft pick and then fold into the slightly cooled but not set double cream mixture and clementine puree.
Pour the Clementine mousse in a mould and let set in the fridge.
Once cold and set, slice the mousse and make the dessert by alternate the chocolate crisp and the slices of mousse.
Serve with an orange or clementine coulis and garnish with fresh Shiso Green.
Tip: This recipe is made using a 75% dark chocolate. You can also use a coulis instead of a puree for the mousse.
Recipe: Franck Pontais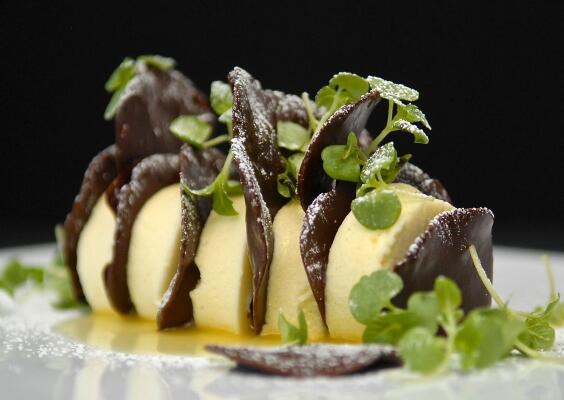 Related recipes
Gastronomical masterpieces
Related products
Say yes to the cress