Ingredients
(For 4 portions)
12 Hippo Tops
4 twigs of Salad Pea
½ punnet Sakura Cress
4 boiled quail eggs
200gr diced cooked beetroot
200gr cooked sweetcorn
200gr avovado hummus
10gr linseeds
2 tbsp olive oil
juice from ½ lemon
1 pinch white ground pepper
Method
Make a vinaigrette, (emulsion) with the olive oil, lemon juice and white ground pepper. 
In two separate bowls, toss the diced cooked beetroot and sweetcorn in the vinaigrette separately. 
Build the glass with the beetroot at the bottom, then the sweetcorn on top. 
Pipe the avocado hummus on top of the sweetcorn and add the boiled quail eggs dipped in linseeds. 
Finish with the Hippo Tops, Salad Pea and Sakura cress. 
Serve.
Recipe: Franck Pontais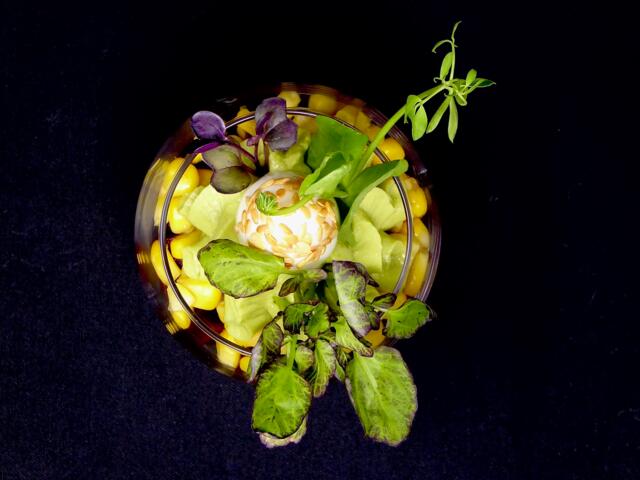 Related recipes
Gastronomical masterpieces
Related products
Say yes to the cress