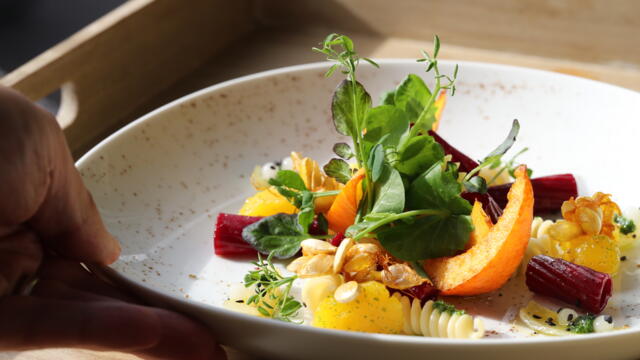 Triple pasta with Hokkaido pumpkin, Hippo Tops and vegan pesto
Vegan dish, containing gluten.
Ingredients
300g Hokkaido pumpkin
nutmeg
cumin
seasoned sea salt
100ml extra virgin olive oil
60g shallots
garlic
toasted black sesame
100 g Penne Rigato NI
2 Kaffir Lime Leaves
200 ml beetroot juice
water
100 g Farfalle No.85
Saffron
100 g Fussili No.48
10 pcs Hippo Tops (watercress)
10 pcs Salad Pea
10 g lemon caviar pearls
60 g vegan pesto
Vegan pesto
200 ml extra virgin olive oil
50 pcs Salad Pea
16 punnets Tahoon Cress
8 punnets Rock Chives
40g pine nuts
toasted lime zest
200g cedro
sea salt
Method
Salad:
Clean the Hokkaido pumpkin and fry with skin. Clean the core blossoms and fry crispy with nutmeg, cumin and sea salt. 
Sauté the shallots with garlic and black toasted sesame. 
Cook the Penne Rigato NI with sea salt and Kaffir Lime Leaves in the beetroot juice and water. 
Cook the Farfalle with saffron and sea salt. 
Cook the Fussili with sea salt. 
Decorate with the Hippo Tops, Salad Pea, lemon caviar pearls and vegan pesto. 
Vegan pesto:
Recipe: Marcel Thiele
Related recipes
Gastronomical masterpieces
Related products
Say yes to the cress