Ingredients
(For 4 servings)
Dover Sole with Pasham:
1 North Sea sole of ± 600 g
8 slices of Tilburg Pasham
sprig of rosemary
sprig of thyme
sunflower oil for cooking
Foam from La Trappe blond:
100 g La Trappe blond beer
30 g crème fraîche
5 g fish stock powder
250 g cream
4 g ginger syrup
4 g Sucro
pepper
salt
Samphire emulsion:
200 g samphire
80 g chicken stock
80 g of protein
4 g xantana or gel espesa
8 dl grape seed oil
pepper
salt
Lamb's ears:
fish stock
butter
Anise bread
Garnish:
Atsina Cress
BlinQ Cress
Bean Blossom
Salty Fingers
Method
Dover Sole with Pasham:
Fillet the sole. Place the slices of Pasham overlapping.
Place the sole on top of the ham and roll it up tightly. Make sure that a nice role is created. Cook the roll in the oil with thyme and rosemary. Do this on 100°C hot air with a core of 52°C.
When the roll is cooked, cut it into 12 equal pieces.
Foam from La Trappe blond:
Cook all ingredients briefly. Season with salt and pepper. Before serving, froth up with a hand blender.
Salicornia emulsion:
Put everything in the blender except the oil. Turn everything smooth and then slowly add the oil.
Lamb's ears:
Stew the lamb's ears in butter and fish stock.
Crispy anise bread from West Brabant:
Freeze the bread. Cut slices of the bread on speed 6 of the slicer. Cut it out with a small plug, (No. 4). Dry the rounds on hot air at 80°C until crispy.
Layout of the board:
Playfully place three Dover Sole rounds on the plate. Put some drops of samphire emulsion on top. Put the bread crisps against the sole. Place the cress around it. Distribute clouds of foam.
Recipe: Koen Nouwens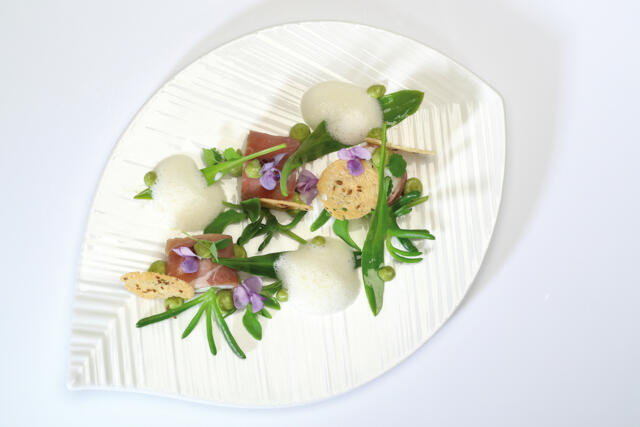 Related recipes
Gastronomical masterpieces
Related products
Say yes to the cress