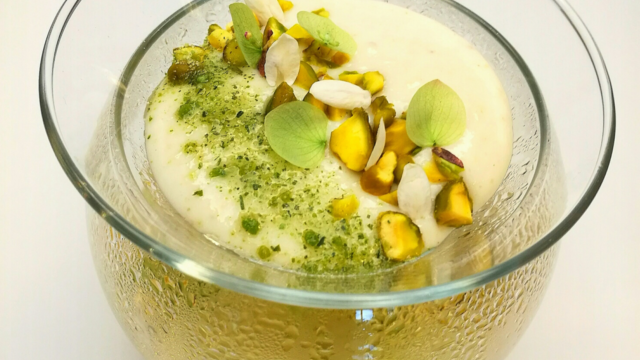 Turkish Keskul (Milk & Almond Pudding)
Source: Hulya Erdal
Another beautiful Koppert Cress based recipe from Hulya Erdal.
Ingredients
Milk and almond pudding:
1 litre full fat milk
1 pack Jasmine Blossom
75g ground rice flour
100g ground almonds
Chopped pistachios, Jasmine Blossom and Atsina® Cress to finish
Atsina sugar: 
1 punnet Atsina Cress, dehydrated
100g caster sugar
Method
Atsina sugar:
Make the Atsina Sugar: Dehydrate the Atsina® Cress in a dehydrator and then once dried, grind down with the sugar. Place in an airtight container until needed.
Milk and almond pudding:
Pour the cold milk in a pan and leave to infuse for an hour with the Jasmine Blossom before bringing to the boil. Remove from the heat, allow to cool slightly and infuse for a few minutes while you prepare your other ingredients.
In a bowl, mix together the ground rice with a little water to make a paste. Strain the milk then pour over a little hot milk and beat then add the rest of the hot milk, mixing well and pour back in the pan.
Recipe: Hulya Erdal
Source: Staff Canteen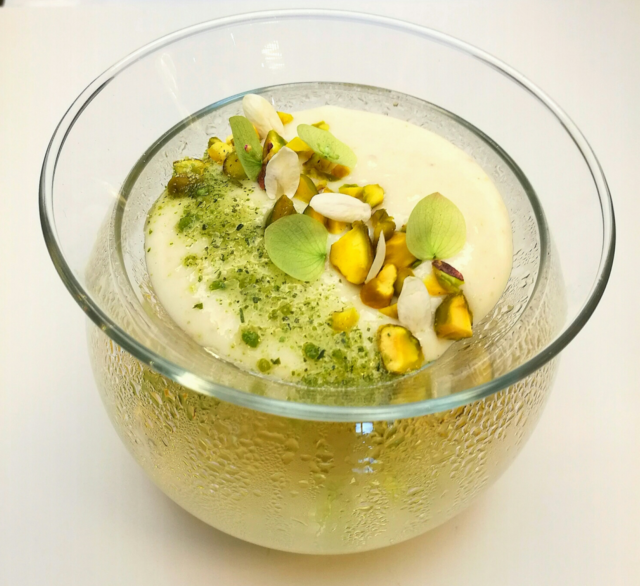 Related recipes
Gastronomical masterpieces
Related products
Say yes to the cress