Ingredients
For 4 portions
2 punnets Mustard Cress
2 punnets Daikon Cress
80gr Salad Pea
325gr Arborio rice, riso gallo
2 tbsp olive oil
20gr butter
1 medium finely chopped onion
125ml white wine
1 liter vegetable stock
150gr mozzarella (1 ball)
oil for frying
For coating:
150gr plain flour
3 eggs (lightly beaten)
150gr fine breadcrumbs
Method
Sweat the onions in the butter for 10 minutes then add the rice and cook for another 5 minutes, then pour the wine. Cook until reduce by half and add half of the vegetable stock. 
Simmer and stir continuously, until most of the liquid is absorbed. 
Add the remaining stock little by little while cooking. 
Once cooked, spread out the risotto on a tray and let cool down. 
Using a scale, divide the risotto rice into 16 equal portions. 
Chop one punnet of Daikon Cress and half of Mustard Cress. 
Flatten the risotto ball into your hand and place at the centre, one piece of mozzarella and some freshly chopped Mustard Cress and Daikon Cress. Form 16 balls. 
Put the flour, eggs, and breadcrumbs into 3 separate bowls. 
Dip each rice ball into the flour, then the eggs and the breadcrumbs. 
Once done, heat up the frying oil at 180°C and fry the Arancini until golden brown. 
Place the Arancini into an oven at 200°C for 5 minutes and serve hot with the Salad Pea, Mustard Cress and Daikon Cress. 
Recipe: Franck Pontais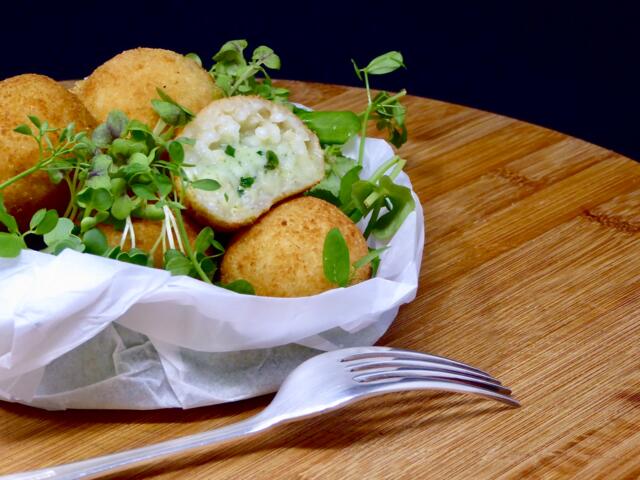 Related recipes
Gastronomical masterpieces
Related products
Say yes to the cress