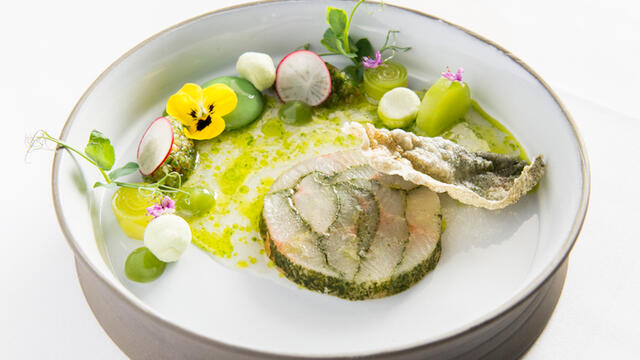 Local trout with dill and cucumber
Whether it is a classic Badisch farm meal in the stube, the food for half-board guests or the star meal in the Wilder Ritter, André Tienelt's handwriting is clearly to be tasted everywhere.
Ingredients
Affilla Cress®
Zallotti Blossom
Cornabria Blossom®
dill sprigs
dill oil
trout fillets
chopped dill
xantana
For the dill cucumber juice:
150 g shallot
100 g leeks
100 g celery
100 small white mushrooms
3 tomatoes
10 dill sprigs
1.5 l fish fumet
5 dl juice of pickled gherkins
1.5 g of orange blossom
1 g of coriander seeds
1 g of fennel seeds
2 pcs star anise
3 bay leaves
2 st allspice
5 parsley sprigs
1 granny smith apple
10 g sago
For the atmosphere of kefir:
22 cl kefir
80 g yogurt 3.5%
5 dl pickle juice
40 g vegetarian gelatin
For the pickled pickle gel:
2 dl pickle juice
2 peeled cucumbers
2.5 leaf of gelatin
1 g of agar
fleur de sel
For the cucumber relish:
20 g fine cucumber cubes
20 g fine gherkin cubes
2 g pepperoni cubes
peel of pink peppercorns
3 tbsp gherkin juice
For the spicy cucumber fond:
1 l of water
2 dl white balsamic vinegar
200 g cane sugar
2 tbsp mustard seeds
5 st allspice
5 bay leaves
1 tbsp orange blossom
1 tbsp white pepper
2 bunches of dill
1 cucumber
Method
Finely chop the vegetables, sweat in olive oil, add the aromatics and supplement with fish fumet and pickle juice. Finely chop the tomatoes and let the sago steep in the stock for 20 minutes.
Blend the dill, parsley and apple and add. Infuse, pass and bind as needed with xantana. For the atmosphere, mix kefir and yoghurt, season, fill in semicircular shapes and freeze.
Mix the pickle juice with the gelatin, heat and immerse the frozen spheres in this mass.
For the gel, blend the cucumber with half of the pickle juice, dissolve the gelatin, dissolve the agar in the remaining juice, mix both compositions, allow to cool and blend smoothly.
Mix all the ingredients for the relish and give it a fresh taste. For the cucumber fond, mix all ingredients except the dill and bring to a boil. Cut the dill and add to the stock.
Infuse for 2 days and pass. Make thin ribbons of cucumber, vacuum with the juice and then roll into rolls. Sprinkle dill on the skinless trout fillets, roll into a roll with foil and reserve cool.
Cut a thin slice of it, garnish with the other components and the cresses and finally pour the warm dill juice on the trout.
***
Hotel Ritter
Tal 1, Durbach An der Badischen Weinstrasse
​T. 0049 781 9323293
www.Ritter-durbach.de
Recipe: André Tienelt
Source: Culinaire Saisonnier 87 - Winter 2017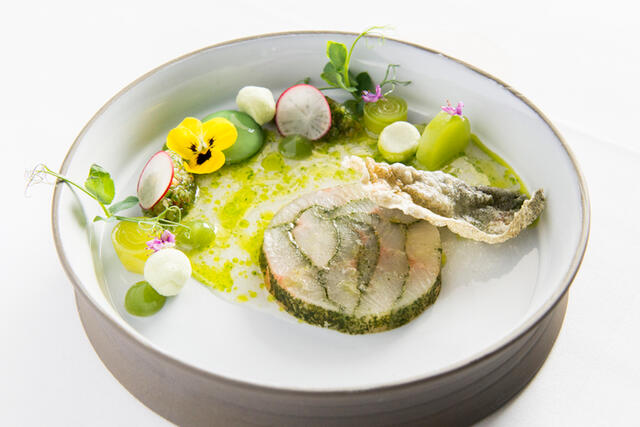 Related recipes
Gastronomical masterpieces
Related products
Say yes to the cress