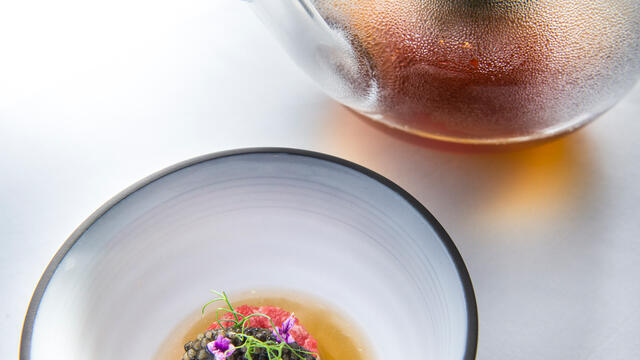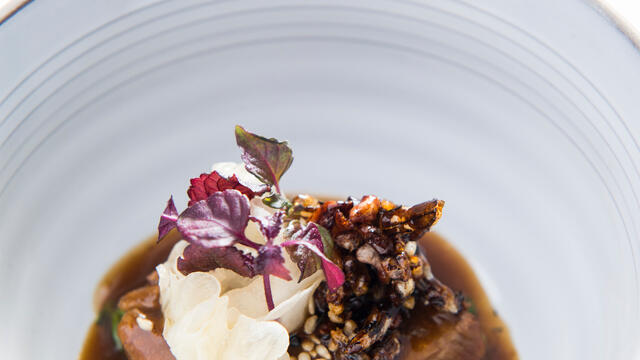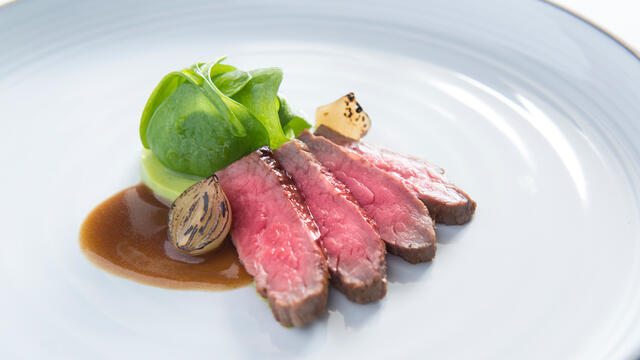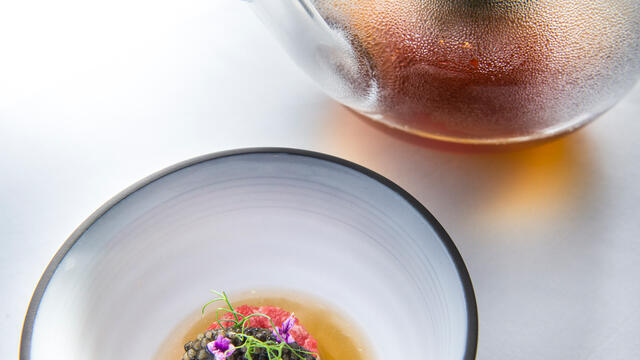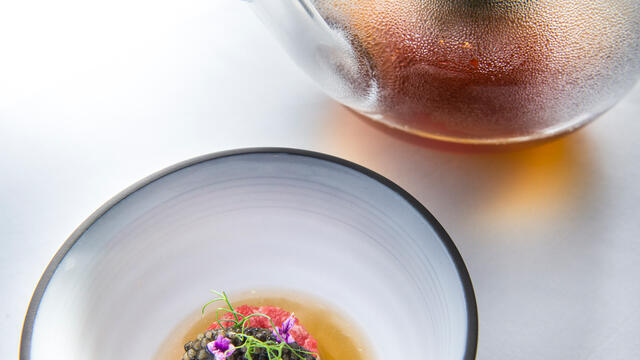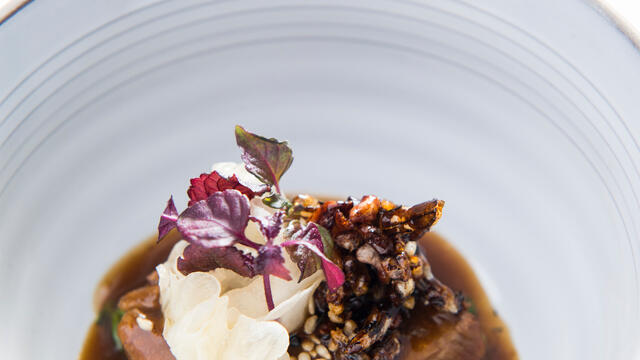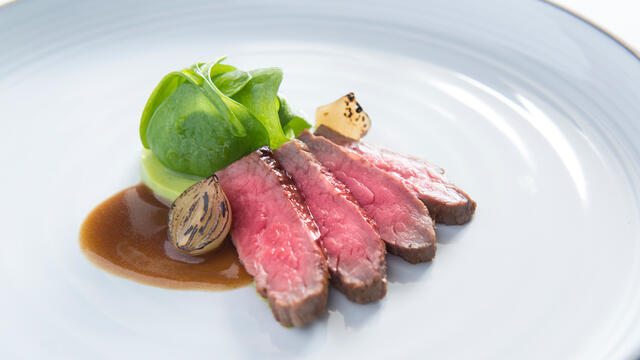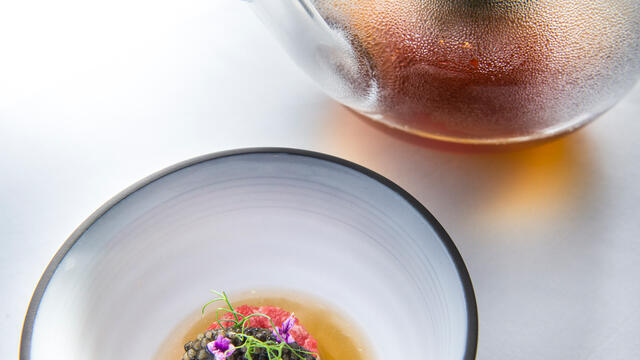 Three times Nebraska Prime Beef
Whether it is a classic Badisch farm meal in the stube, the food for half-board guests or the star meal in the Wilder Ritter, André Tienelt's handwriting can be tasted everywhere.
Ingredients
1. Châteaubriand, soy, onion:
purslane
soybeans
beef loin
crispy rice
bok choy
chives
cauliflower mushroom
beef stock
Sakura Cress®
Zallotti Blossom
Affilla Cress®
Shiso Purple
For the soy bean puree:
200 g of soy beans
100 g broad beans
1 dl poultry stock
20 g of butter
salt
For the roasted pearl onions:
3 kg cleaned silver onions
200 g of goose fat
100 g of sugar
50 g thyme honey
1 dl balsamic vinegar
1 dl apple honey vinegar
5 dl white port
5 dl white wine
5 dl veal stock
1 bunch of thyme
3 bay leaves
5 pcs star anise
10 st allspice
10 pcs juniper
1 tbsp peppercorns
2. Short rib bulgogo (side dish):
1 pear
1/2 st onion
2 cloves of garlic
30 g ginger
1 bunch of chives
1/2 carrots
2 tbsp clear soy sauce
1 tbsp brown caster sugar
1 tbsp mirin
1 tbsp sesame oil
short rib
For the pickled bok choy:
2 pcs chopped shallot
3 pcs lemongrass
10 pcs shiitakes
2 dl noilly prat
2 dl mirin
2 dl poultry stock
2 dl chili sauce
5 dl lobster fumet
1 tbsp white balsamic vinegar
2 tbsp sweet soy sauce
2 tbsp coriander grains
1 tbsp aniseed
2 tbsp pink peppercorns
2 tbsp black sesame seeds
1 tbsp allspice
1 tbsp mustard seeds
1 tbsp orange blossom
1 tbsp curry powder
1 tbsp pickled ginger
1 garlic clove
3 pcs star anise
1 pc bay leaf
5 coriander sprigs
5 thyme sprigs
5 pcs rosemary sprigs
5 lemon thyme sprigs
potato starch
3. Tartar and oscietra caviar (side dish):
100 g beef mouse
15 g blanched fine shallot brunoise
10 g of mustard
salt
pepper
oscietra caviar
For the beef tea:
Beef broth
rosemary
thyme
Method
1. Châteaubriand, soy, onion
Bake the side brown all around and give cuisson. Blender for the cream all ingredients smooth while warm, season and rub through a sieve.
Fry the onions in the fat and caramelize with sugar and honey. Deglaze with the vinegars and top up with wine, port and stock. Add the aromatics, cook in the oven, bind the moisture and fill in preserving jars.
Halve the onions and burn them. Serve the cream on the plate with the heated soy beans, dress the meat with the onions and garnish with purslane and the cresses. Finally, add the stew from the short rib.
2. Short rib bulgogo (side dish):
Blend the peeled pear, ginger, garlic and onion for the side dish. Chop carrots and chives and make a marinade with the other ingredients.
Let the meat marinate for at least 21 hours and then cook in some beef stock, supplemented with a portion of marinade.
Sweat the shallot, shiitake and lemongrass in oil, deglaze with noilly prat, chili sauce, mirin and both broths, bring to the boil and add all the aromatics.
Finally add the fresh herbs, let it steep for 10 minutes, pass through a cloth and bind lightly with potato starch.
Clean bok choy and marinate with the specified ingredients. Serve the meat on the pickled bok choy, garnish with the crispy rice, the fried cauliflower mushroom, Sakura Cress® and Shiso Purple.
Spoon the gravy around it.
3. Tartar and oscietra caviar (side dish):
For the tartare, chop the meat, mix with the shallot and mustard and season.
Mash the tartare in a cutter, garnish with caviar, Zallotti Blossom and Affilla Cress®.
Pour the warm beef tea through the thyme and rosemary to the tartare.
***
Hotel Ritter
Tal 1, Durbach An der Badischen Weinstrasse
​T. 0049 781 9323293
www.Ritter-durbach.de
Recipe: André Tienelt
Source: Culinaire Saisonnier 87 - Winter 2017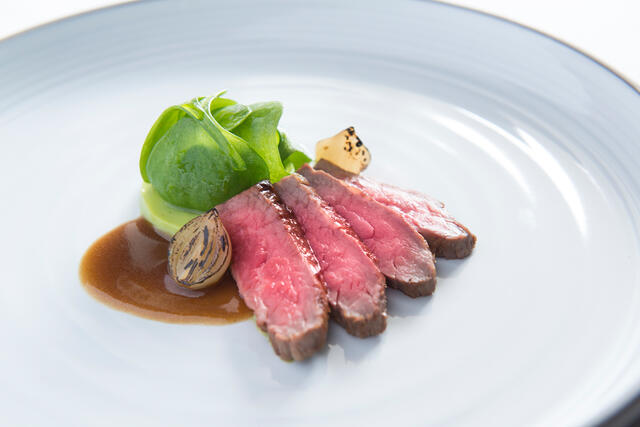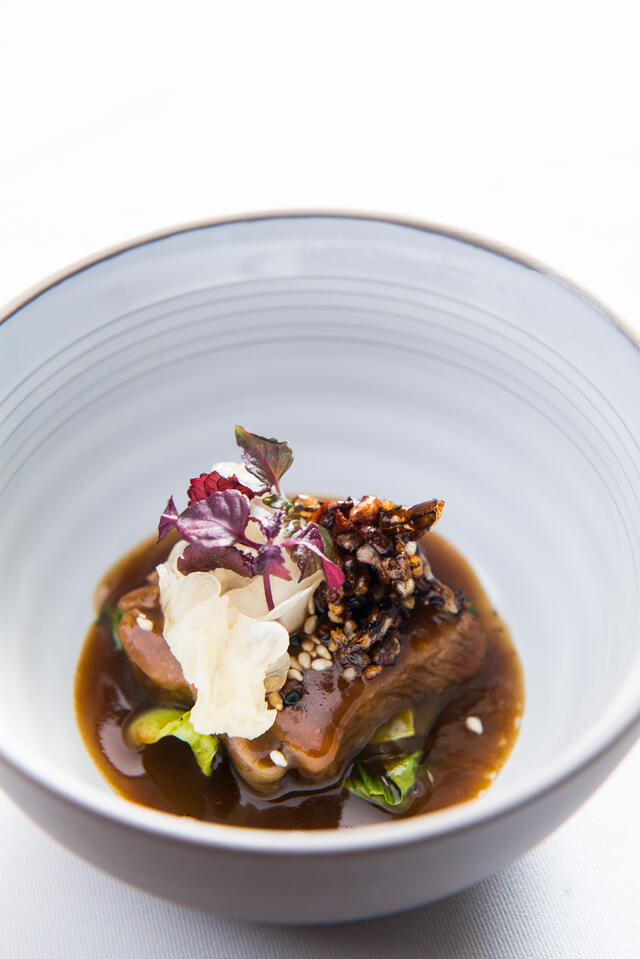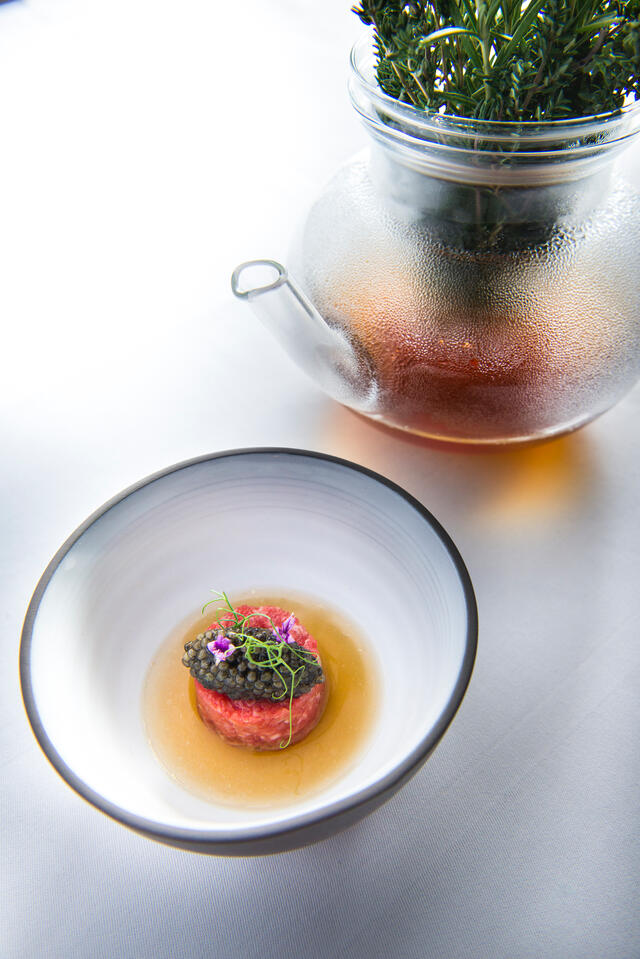 Related recipes
Gastronomical masterpieces
Related products
Say yes to the cress