Ingredients
(For 4 - 6 portions)
250gr flour
125gr caster sugar
125gr butter
1 egg
1 tsp vanilla essence
¼ tsp baking powder
1 small pinch of salt
Crème pâtissier for the filling:
1½ punnet of Melissa Cress
250ml milk
2 egg yolks
50gr caster sugar
30gr cornflour
Topping:
1 punnet Zallotti Blossom
½ punnet Melissa Cress
80gr strawberry jelly
250gr strawberries
Method
In a large mixing bowl, place the flour, baking powder, caster sugar and salt. 
Cut the butter in small cubes and mix in the flour with your hand, until well-integrated. 
Add the egg and the vanilla essence and make a dough; do not overwork. 
Leave to rest in a cool place for at least one hour and lay to a 3mm thickness with a rolling pin and place into a tart ring. 
Cook the pastry case in a hot oven with some dry beans at the bottom, to stop it rising. 
You should have enough to make 2 cases with this quantity, I would advise you to cook both cases and keep one in the freezer for next time, it's a very handy tip. 
Crème pâtissier for the filling:
Dilute the cornflour in a glass with 50ml of milk and bring to simmer the other 200ml of milk.  
Whisk together the egg yolk and sugar and add it to the simmering milk. 
Continue slowly whisking for 2 to 3 minutes and add the rest of the milk with the diluted cornflour in the pan. 
Cook for a further 2 to 3 minutes, until the crème thickens. 
Pour the "crème patissier "into a flat tray and let cool down for 30 minutes. 
Chop the Melissa Cress and fold it into the "crème patissiere" then fill the pastry case to level. 
Topping:
Cut the strawberries and arrange them on top of the tart. 
Heat up the strawberry jelly slightly and brush the strawberries with it to create a nice glaze and shine. 
Remove the flowers from their stems of the Zallotti Blossom and scatter them on top. 
Add a few leaves of freshly cut Melissa Cress to finish and serve. 
Recipe: Franck Pontais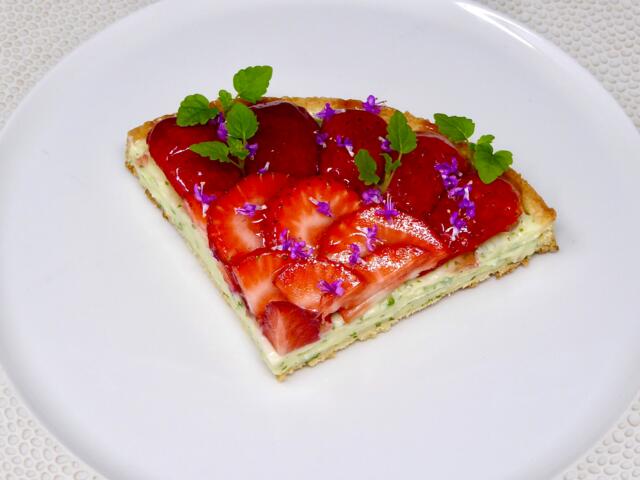 Related recipes
Gastronomical masterpieces
Related products
Say yes to the cress