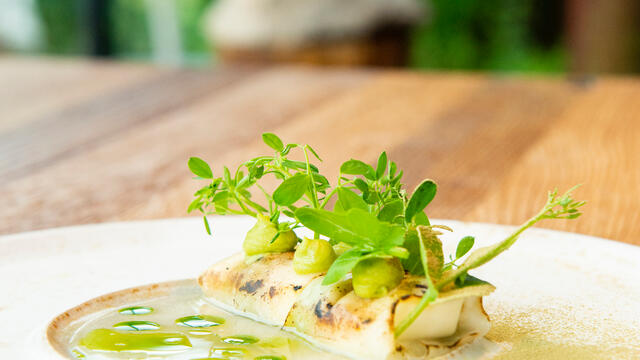 Kohlrabi package with goat cheese, soy bean cream and spring onion
Heiko Lacher's style in the kitchen? Pure and direct and based on fresh acids with light umami touches.
Ingredients
kohlrabi in slices
onion rings
Salad Pea
goat cheese
baked onions
For the marinade:
1 dl water
5 g of salt
80 g of sugar
1 dl rice vinegar
dill stems
clove
bay leaf
For the cream of soy beans:
500 g soy beans
100 g chopped shallot
5 cl poultry stock
100 g Salad Pea
3 cl champagne vinegar
3 cl chardonnay
butter
grate 1 lemon
For the clear long distance:
5 cl kohlrabi juice
5 cl marinade
For the pea oil:
100 g Salad Pea
50 g of rapeseed oil
For the pea powder:
blanched pea skins
cooked onions
wheatgrass powder
Method
Bring everything to the boil for the marinade and marinate the kohlrabi and onion strips. For the cream, fry the shallots in butter until translucent, deglaze with vinegar and chardonnay and reduce slightly.
Add the remaining ingredients, cook, blender until smooth and reserve cool. Mix the ingredients for the stock. Blend the ingredients for the oil together at 40˚C and pass through a fine sieve.
Dry the onions and pea skins, blender to powder and mix with the wheatgrass powder. Make a package of kohlrabi, goat cheese and cream of soy beans and burn.
Garnish with the Salad Pea, onion rings and fried onions. Spoon the stock around it and finish with the oil and powder.
***
Restaurant Anima
In Wöhrden 5, Tuttlingen, Duitsland
Tel. 0049 7461 7803020
www.restaurant-anima.de
Recipe: Heiko Lacher
Source: Culinaire Saissonier 90 - Fall 2018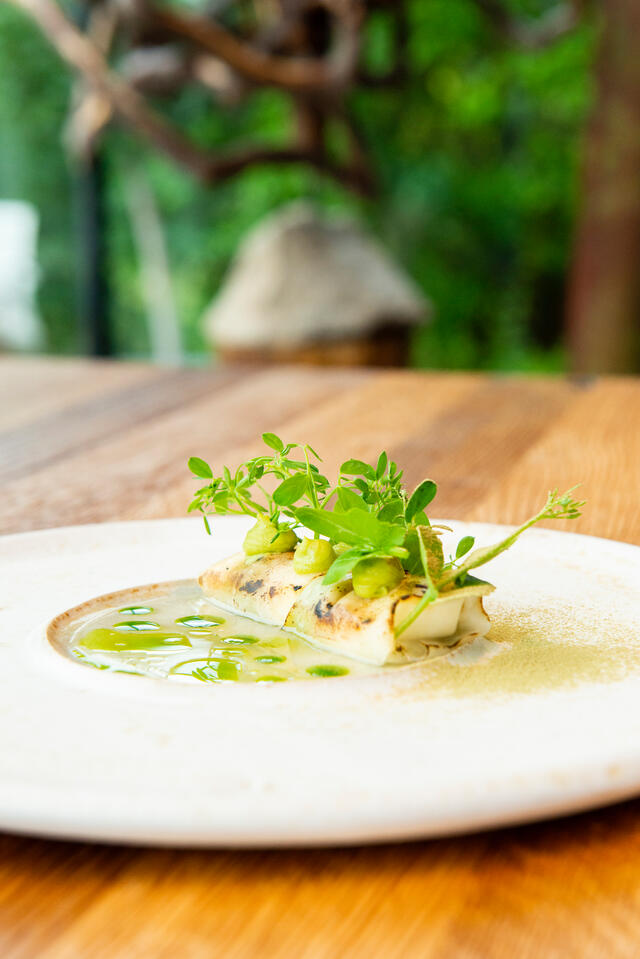 Related recipes
Gastronomical masterpieces
Related products
Say yes to the cress