Ingredients
King crab:
King crab legs
Clarified butter
Crab cream:
400g crab carcasses
400g milk
10g salt
2g cayenne pepper
250g grapeseed oil
Biscuit:
100g flour
100g protein
90g clear butter
30g sugar
4g salt
Method
King crab:
Break the king crab legs and marinate with clarified butter, vacuum seal and cook at 82°C for 10 minutes in a water bath.
After cooking, remove from the butter and portion, or cut into small pieces for the tartare and marinate with the light crab cream.
Crab cream:
Roast the carcasses in the pan and then deglaze with a little cognac.
Fill up with milk and let it steep for 30 minutes, then strain and reduce to 1/3.
Cool the reduced milk a little and then use the oil to make a mayonnaise.
Biscuit:
Mix all ingredients together and spread on the template and bake undercooked, then remove from the template and finish baking separately.
Kohlrabi:
Slice the kohlrabi thinly on the mandolin or cut out balls with the cutter and blanch briefly and then quench in the ice water.
Cut the leaves into shape and spread the king crab tartare on top and roll up.
Serving:
Arrange the cannelloni alternately with the crab meat on the plate, garnish with Moai Caviar and finish off with the tips of the Salad Pea and biscuit.
Recipe: Andre Wolff - Rungis Express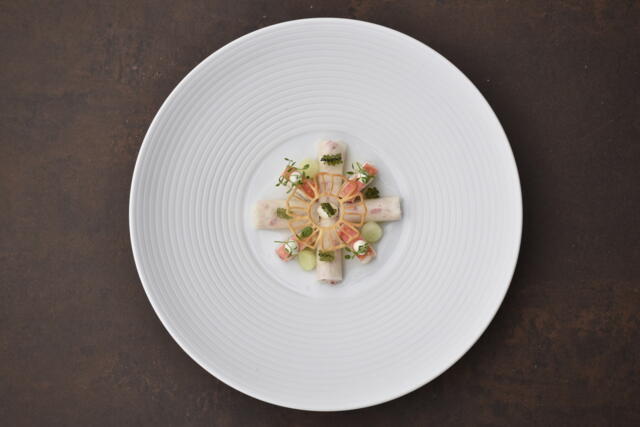 Related recipes
Gastronomical masterpieces
Related products
Say yes to the cress