Ingredients and method
Ingredients for two people
Wasabi leaf
Livers from:

King crab
Langoustine
Fresh tuna
North Sea crab

Kinmemai rice (holds heat longer)
Marigold egg
Paling dashi broth
Vintage soy sauce (a few drops)
Chawanmushi (steamed egg custard with delicate flavor)
Steamed pieces of king crab with ginger
Zorri Cress
Sea Fennel
Oyster Leaves
Scarlet Cress
Crisps made with Algae Powder Aventurine
Method
Preparation of the crisps:
Create an emulsion with chickpea protein and cassava and add Algae Powder Aventurine.
Spread thinly on a silicone mat and cook/dry.
Preparation of the crab content:
Mix assorted crab livers with 80 millimeters of paling dashi broth and 1 Marigold egg yolk, then steam at 80°C (176°F). The amount of time depends on the weight of the crab.
Steam the king crab for 5 minutes at 80°C (176°F) and season with Mareun Macholchi.
Use the innards of different fish and blend into a cream with Marigold egg yolk and paling dashi broth. These blends are very flavorful and provide an intense taste experience to the dish.
Fill the shells with the liver mixture and Marigold egg yolk, then dashi, and finally add the pulled crab meat from the legs of the North Sea crab. Steam this in the oven at 80 degrees Celsius (176°F) for 15-20 minutes, depending on the size of the crab.
Present on a beautiful plate on the wasabi leaf and decorate with Algae Powder crisps.
Finish with Zorri Cress, Sea Fennel, Oyster Leaves, and Scarlet Cress.
Recipe: Kelvin Lin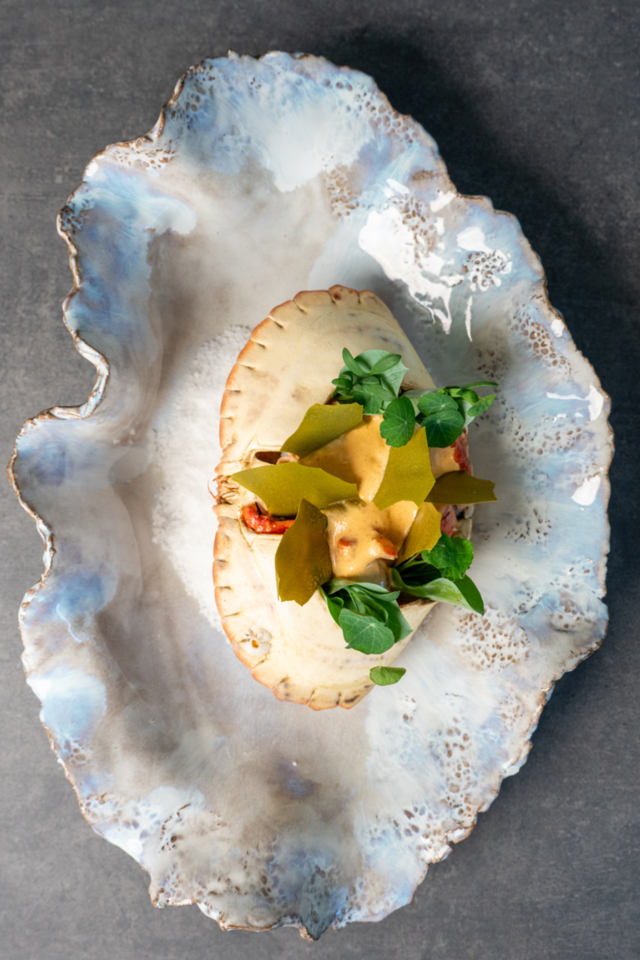 Related recipes
Gastronomical masterpieces
Related products
Say yes to the cress