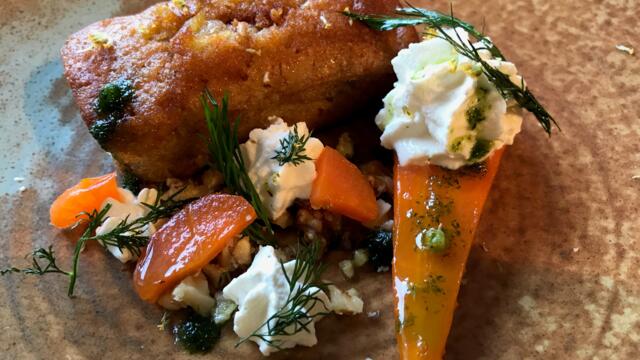 Carrot and Sechuan Button cake
Carrot and Sechuan Button cake, caramelized carrots, carrot top salad and yoghurt icing.
Ingredients
Carrot cake:
42g self-raising wholemeal flour, sifted 
42g self-raising plain white flour, sifted 
50g soft brown sugar, combined with the 2 Sechuan Buttons 
½ tsp baking powder, sifted 
1 large egg, cracked and beaten 
62ml sunflower oil 
1 tbsp Manuka honey 
1 orange, juice and zest of 
1 vanilla pod, seeds removed 
75g carrots, peeled and grated  
20g walnuts, roasted and chopped (reserve 6g for plating) 
Caramelized carrots:
1 carrot peeled, cut in half lengthways trimmed and edges turned for presentation  
¼ tsp salt 
30g sugar 
20g butter 
1tsp Manuka honey 
½ tsp ground ginger 
250ml cold water 
Carrot top salad:
14 carrot top sprigs 
1 tbsp rapeseed oil 
3 Sechuan Buttons 
Yoghurt icing:
35g cream cheese, at room temperature 
35g greek yogurt 
½ tsp vanilla seeds 
20g icing sugar 
Carrot top oil:
carrot tops
1 tbsp rapeseed oil 
Garnish:
5g caster sugar
3g brown sugar
1 Sechuan Button
6g walnuts roasted & chopped 
Plating:
carrot cake
caramelized carrot 
3 carrot slices 
yoghurt icing in a piping bag with nozzle  
Sechuan Button Sugar 
chopped walnuts  
crispy carrot tops 
raw carrot tops 
carrot top oil 
Method
Carrot cake:
Pre heat an oven to 180°C. 
In a bowl, place the flours, sugar, combined with the Scehuan Button and baking powder, mix well to combine all ingredients. 
In a jug place the eggs, oil, honey, orange juice and zest and vanilla, whisk well to combine all ingredients. 
Pour the egg and oil mixture into the flour and sugar mixture along with the grated carrot and 14g of the walnuts. fold to combine, being careful not to overmix. 
Spoon the carrot batter mixture into a rectangle silicone baking mould, gently smooth out the surface. 
Transfer to the oven and bake for 15-20 minutes or until firm to the touch and a sharp knife inserted in the middle comes out clean. Leave to cool in the tin before slicing the cakes level with the top of the mould.  
Turn out with the top now becoming the bottom onto a wire rack. 
Caramelized carrots:
Place the carrot halves in a saucepan and cover with cold water.
Add the salt, sugar, butter, honey and ginger.
Bring to the boil and simmer for 5-6 minutes or until the water has evaporated and formed a glaze. Baste the carrots ensuring they have glazed. 
Remove from the pan and allow to cool. 
Carrot top salad:
Line a plate with clingfilm, pulling it tightly. 
Take 6 of the sprigs and brush them both sides with a little of the rapeseed oil and place on the clingfilmed plate, presentation side down. 
Place in a microwave and microwave for 20-30 second bursts until the carrot tops become hard and crispy. Remove from the hot plate onto a cold plate lined with greaseproof paper to cool down. They will go crispy. 
Yoghurt icing:
In a bowl whisk together the cream cheese and yogurt until fluffy. Add in the vanilla and beat until combined. 
Gradually add in the icing sugar until you've added all of it and it's well combined.  Continue to whisk for 2-3 minutes until the frosting is fluffy. 
Carrot top oil:
Garnish:
Mix the sugars and Scehuan Buttons petals. 
Plating:
Place a half of the carrot on each plate. Sprinkle with a little of the roasted chopped walnuts and Scehuan Button sugar (does not matter if some falls onto the plate).
Pipe the yoghurt icing neatly onto the carrot.
Place the crispy and raw carrot tops alternately onto the icing.
Sprinkle a little more of the Scehuan Button sugar over the carrot tops.
Pipe a little icing onto the plate, arrange the cake on top, next to the carrot and carrot top salad.  
Dot the plate with a little carrot top oil.
Recipe: Gary Kilminster
Related recipes
Gastronomical masterpieces
Related products
Say yes to the cress