Ingredients
1 monkfish tail 
50g smoked salt 
60g caster sugar  
1 orange zest  
1 lemon zest  
400g tomatoes 
1 red chilli 
4 cloves of garlic  
1 tbsp salt 
1 tbsp sugar 
1 orange; juiced  
1 tbsp red wine vinegar 
10 Sechuan Buttons 
5 basil leaves 
Method
Cut all of the tomatoes into even chunks and place in a bowl. 
Cut the chilli into even chunks and the garlic in half lengthwise and place into the bowl.
Add the salt, sugar, red wine vinegar and orange juice into the bowl and leave to macerate overnight.
Blitz 5 Sechuan Buttons with 50g of smoked salt.
Blitz 5 Sechuan Buttons with 60g of sugar. 
Combine the sugar and salt mixture with the zest of 1 orange and 1 lemon. 
Cover the monkfish with the salt and sugar mixture and place in an airtight bag or container.
Place the monkfish in the fridge for 4-6 hours, turning it upside down every hour to ensure curing of all of the tail. 
Blitz the tomato mixture with the Sechuan Buttons and then strain using a mesh strainer or sieve. Shred the basil and parsley and stir it through the liquid.  
Place the tomato liquid into the freezer on a flat sheet or into a ice cream churner to churn.
Wash the cure off of the monkfish tail and wrap it tightly in clingfilm. Freeze overnight or until frozen solid.
Thinly slice the monkfish tail  from frozen to keep its shape and place straight onto a cold plate, continue until a circle is formed on the plate. Brush with olive oil and sprinkle a pink of smoked salt over it.  
Using a fork, break up the granita on the flat tray or ice cream churner til it forms snow like clumps and generously scatter on the monkfish.
Garnish with rocket or Sechuan Buttons.  
Recipe: Kyla Bertrand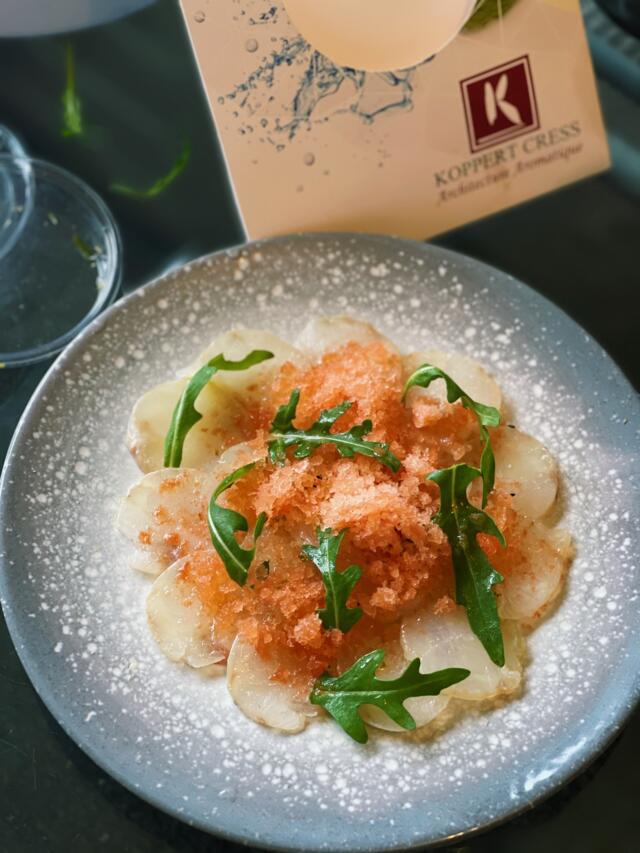 Related recipes
Gastronomical masterpieces
Related products
Say yes to the cress