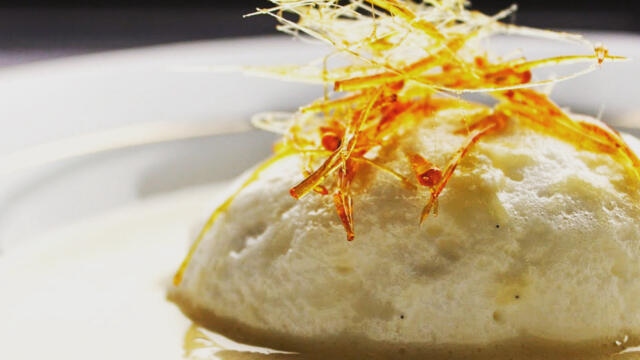 Sechuan Button île flottante
Sechuan Button île flottante topped with sea salt caramel shards
Ingredients
(For 8 portions)
Sechuan Button meringues:
6 free-range egg whites
juice from one lemon
120g caster sugar
3 Sechuan Buttons (grated finely)
1L full-fat milk
2 tsp vanilla bean paste
Sechuan Button rum and vanilla cream:
14 free-range egg yolks
200g cream
200ml dark rum
100g caster sugar
20g cornflour
ice cubes
Sea salt caramel shards:
50ml water
100g caster sugar
sea salt
Method
Sechuan Button meringues:
Whisk the egg whites and lemon juice in a clean bowl until soft peaks form when the whisk is removed. 
Add the sugar mix a third at a time, great in the whisking after each addition, until stiff peaks form when the whisk is removed.  
Bring the milk, Sechuan Buttons and the vanilla bean paste to the boil in a large, shallow, lidded pan. Reduce the heat until the mixture is just simmering. 
Dip 2 tablespoons in hot water, then make 8 quenelles of the meringue mixture, using the spoons to shape the meringue. Carefully lower each quenelle of meringue into the simmering milk. Cover the pan with the lid and poach for 7-10 minutes, carefully turning the meringues over halfway through cooking. 
Remove the poached meringues from the pan using a slotted spoon and set aside to drain on a small tray until needed. Reserve the poaching milk and keep warm.
Sechuan Button rum and vanilla cream:
Lightly whisk the egg yolks, caster sugar and cornflour together in a mixing bowl, until smooth.  
Add the cream and rum to the warm milk; reheat but don't boil, then gradually add the hot milk to the egg yolks, whisking continuously, then return the custard mixture to the pan and heat over a medium heat, stirring continuously with a wooden spoon, until the custard is thick enough to coat the back of the spoon. 
Pour the custard immediately into a large serving bowl and suspend it over a bowl of ice water. Stir occasionally until the custard cools. 
When the custard has cooled, transfer to a serving bowl. Float the poached meringues on top of the cooled custard. 
Sea salt caramel shards:
Pour the water into a straight-sided pan, then add the sugar and cook over medium heat, until the sugar has dissolved. Once no sugar crystals remain, boil the mixture until caramelised to a dark golden-brown.  
Carefully dip the base of the pan into a bowl or sink full of cold water to prevent the caramel from cooking any further. 
Drizzle over the parchment to make shards. Sprinkle with ½ tsp flaky sea salt and leave to set. Break up and add to floating meringues and serve immediately. 
Recipe: Kevin Kindland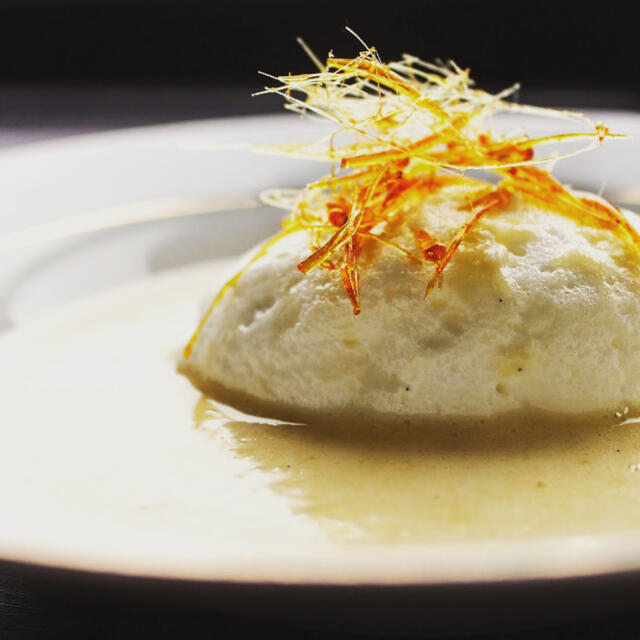 Related recipes
Gastronomical masterpieces
Related products
Say yes to the cress