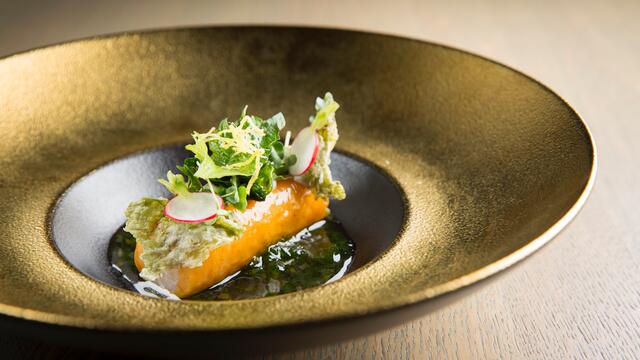 Crayfish cannelloni, Shiso juice and Shiso cream
Working with a local farmer's wife with a vegetable garden planted at his request brings Alexander Wulf closer to his ultimate goal: a modern global kitchen with Russian touches.
Ingredients
Shiso Leaves Green
radish slices
Mustard Cress
RucolaCress®
crispy nori
crayfish meat
For the Shiso fond:
75 cl water
40 g kombu
8 g laitue de mer
40 g bonito flakes
2 tbsp mirin
2 tbsp soy sauce
2 tbsp Mitsukan
salt
pepper
xantana
Shiso Leaves Purple
For the algae jelly:
1 dl algae stock
1.5 leaf of gelatin
For Shiso cream:
2 dl algae stock
40 g Shiso Leaves Green
1/2 dl chlorophyll
2.5 g of agar
Method
For the stock heat the water to 80°C, add the kombu and let it steep for 1 hour. Sieve the moisture, add the bonito flakes and let it steep for 1 hour.
Sieve again and season with soy sauce, mirin and mitsukan. Dice the kombu and laitue de mer, add to the liquid and lightly bind with xantana.
Cut the Shiso Leaves Purple very fine and mix under the moisture.
For the jelly, bring the liquid to a boil, dissolve the soaked gelatin in it, pass through a sieve and pour thinly on a plate.
Pick the crayfish meat, season and roll in a thin strip of jelly into a cannelloni.
For the cream, boil the moisture with the chlorophyll and Shiso Leaves Green and dissolve the agar in it. Let set and blender smooth.
Place the cannelloni on the plate, garnish with the other components and finish with the cream.
***
Restaurant St. Jacques

Feldstrasse 50, Heinsburg, Duitsland
Tel 0049/2453 306 980
www.burgstuben-residenz.de
Recipe: Alexander Wulf
Source: Culinaire Saisonnier 91 - Winter 2018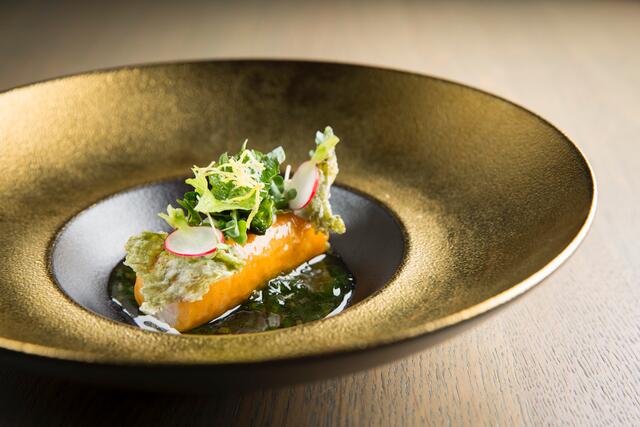 Related recipes
Gastronomical masterpieces
Related products
Say yes to the cress