Ingredients
For 4 to 6 portions
10 pcs large Shiso Leaves Purple                          
1 punnet Shiso purple
2pcs Zallotti Blossom                                     
12pcs Gangnam Tops                                                          
200g cherry tomatoes                                         
80gr grated Gruyere cheese                
1 medium sliced white onions                                             
150g cooked lentils                                                             
300ml vegetable stock                                          
40g butter                                                                            
a drizzle olive oil                                                  
250g to 30 gr crust pastry                                                 
2 pinches white ground pepper   
Method
Melt the butter in a frying pan and add the finely diced onions.
Let it cook for a few minutes on medium heat and add the hot vegetable stock and ½ punnet of freshly cut Shiso Purple.
Let it cook and reduce for 5 to 8 minutes. Then add the cooked lentils and the pinch of white pepper. Let it cool down.
Partially cook the pastry base in a hot oven and let it cool down.
Fill the bottom of the tart with the onions and lentils mix and add the Gruyère cheese on top.
Cut the cherry tomatoes in halves and arrange them on top to finish the tart.
Bake in the oven at 180°C for 15 minutes and sprinkle with the Zallotti Blossom, the rest of the freshly cut Shiso Purple and the Gangnam Tops.
Drizzle with the olive oil and serve with the Shiso Leaves Purple.
Recipe: Frank Pontais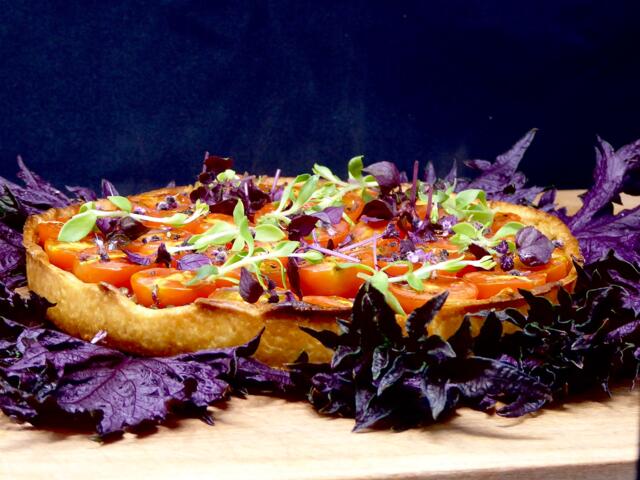 Related recipes
Gastronomical masterpieces
Related products
Say yes to the cress