Ingredients
Special equipment and ingredients:
Gebaks ring for pesto template
Speed blender
Mandoline
Agar-Agar
For the Daikon consommé:
3,5L vegetable stock (cold)
12 punnets Daikon Cress
35g Agar-Agar
4 punnets Zallotti Blossom
season to taste
For the Borage pesto:
700g halloumi cheese
2 large broccoli
2 large cauliflower
12 punnets Borage Cress
125ml olive oil
2 lemons
season to taste
Crispy vegetable salad:
2 cauliflower stalks
2 broccoli stalks
2 cucumbers
1 mouli (daikon)
200g red radish balls
1 small bunch of spring onions
2 limes
100ml olive oil
2 punnets Kikuna Leaves
10 punnets Scarlet Cress
6 punnets Rock Chives
10 punnets Gangnam Tops
2 punnets Bean Blossom
Season to taste
Method
Daikon consommé:
Mix the Daikon cress, vegetable stock, seasoning and the Agar-Agar together.
Put on the bottom of the plates, for the Zallotti flowers to rest on later.
Borage pesto:
Cut small flowers from the broccoli and cauliflower, keeping the stalks aside for the crispy vegetable salad.
Cut the halloumi cheese into cubes and mix in the food processor with the broccoli and cauliflowers, olive oil, Borage Cress, and the juice of 2 lemons.
Season to taste.
Crispy vegetable salad:
Emulsify the olive oil with the lemon juice and the seasoning and keep aside.
Slice all vegetables (except cucumber) very finely and keep in icy cold water.
At the last minute, drain, dry and mix the sliced vegetables with the dressing.
Season well and place on top of the Borage pesto.
Add Scarlet Cress, Kikuna Leaves and Gangnam Tops.
Recipe: Franck Pontais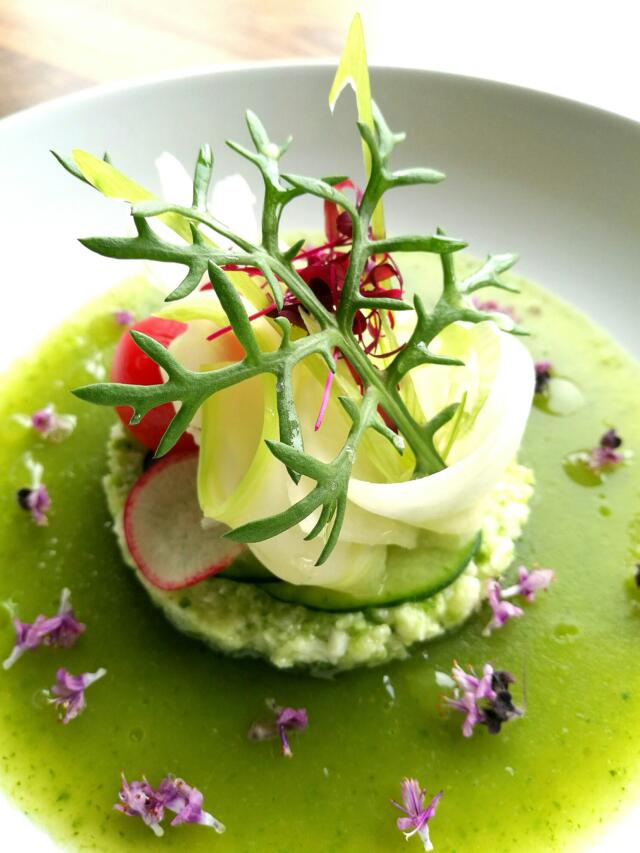 Related recipes
Gastronomical masterpieces
Related products
Say yes to the cress