Ingredients
Salty Fingers
artichoke
fondant potato
quail egg
For the sole:
sole fillets
potato
butter
For the king crab legs:
king crab legs
vegetable stock
cayenne pepper
For the razor clams and the sauce:
razor clams
White wine
cream
algae powder
For the vegetable turret:
zucchini
eggplant
red pepper
olive oil
garlic
pepper
salt
Method
Cut thin slices of the potato, cut them in round shapes and cover in melted butter. Place two sole fillets on top of each other tile-wise on the potato and fry them in a non-stick pan. Cook the crab legs in the stock with cayenne pepper. Remove the crab meat from the legs. Cook the razor clams with some white wine. Reserve the moisture with some cream and finish with algae powder. Cook the slices of vegetables with olive oil and garlic in the oven at 100°C, build up in layers and finish with a quail egg. Finely chop the razors clams and dress them in the shell with artichoke and Salty Fingers. Arrange this on the fondant potato. Add the crab and sole with the vegetable turret and spoon in the sauce.
Source: Culinaire Saisonnier
Photographer: Dirk Kerstens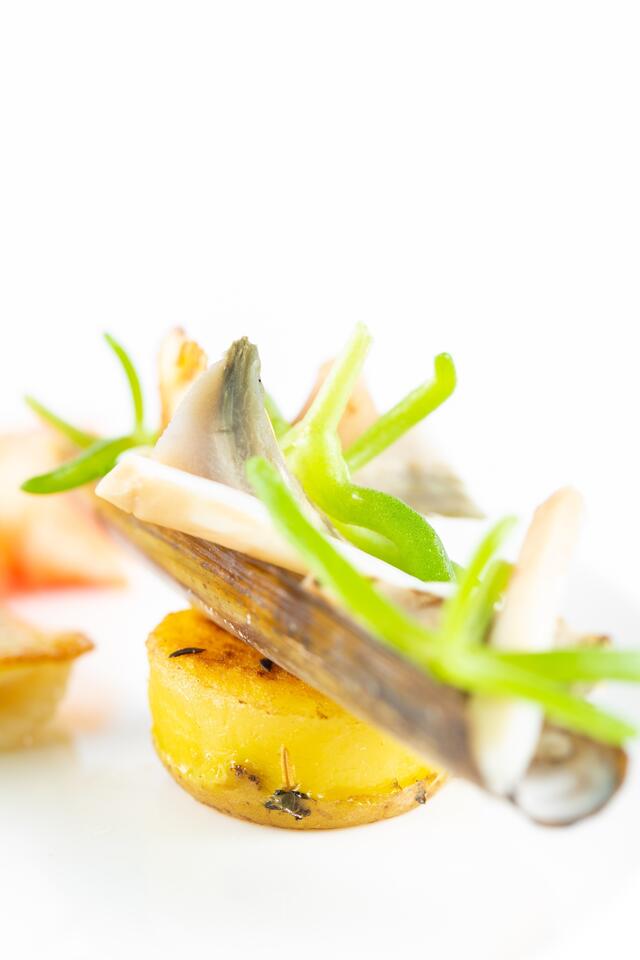 Related recipes
Gastronomical masterpieces
Related products
Say yes to the cress