Ingredients
(For 4 portions)
8 Citra Leaves
½ punnet Salty Fingers
1 punnet Gangnam Tops
125gr pitted fresh cherries
80gr celery branch
1 big or 2 small red apples
60gr mature Comté cheese
a few slices crumpet bread wafer
olive oil
Method
Make some fine julienne out of the red apples. 
Cut half of the cherries into quarters and leave the rest half. 
Make some peelings out of the celery branch and the Comté cheese using a traditional peeler. 
Using a mixing bowl, fold together the Citra Leaves, Salty Fingers, Gangnam tops, Cherries, julienne of apples, peelings of Comté cheese and celery branch. 
Place in the middle of each plate and serve with a generous drizzle of virgin olive oil and the crumpet bread wafers. 
This salad is the definition of an excellent food combination with the saltiness of the Salty Fingers cutting through the sweetness of the cherries, and of course the nuttiness of the Comté cheese. The crunch of the apple with the Gangnam Tops and Citra Leaves compliment just as well. 
Recipe: Franck Pontais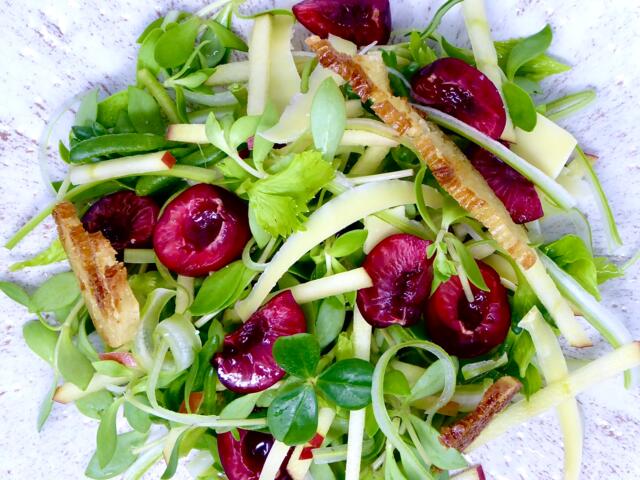 Related recipes
Gastronomical masterpieces
Related products
Say yes to the cress