Ingredients
(For 10 portions)
1 head Chinese leaves (finely shredded)
1 bunch spring onions (cut into thin circles)
1-piece red chilli, (seeds removed and finely diced)
5g coriander leaves (chopped)
60g toasted flaked almonds
Dressing: 
60ml rice wine vinegar
60ml vegetable oil
50ml light soy sauce
50ml fish sauce
60g caster sugar
The (optional) sesame biscuit:
30g sesame seeds
15g poppy seeds
30g icing sugar
20g flour
10ml orange juice
35g melted unsalted butter
1 pinch of salt
To serve:
1 punnet Shiso Purple
10 pieces Salty Fingers
10 pieces Sea Fennel 
Method
Dressing:
To make the dressing mix all the ingredients and warm them in a suitable pan to dissolve the sugar, once the sugar has dissolved remove the dressing from the heat and transfer it to a bowl, once cool mix in all the salad ingredients, leave in the fridge to infuse together for at least 4 hours. This wonderfully fragrant salad can easily be made the day before needed.
The (optional) sesame biscuit:
Combine all the ingredients and leave it to set in the fridge for a couple of hours before spreading thinly on a baking sheet. Bake in a pre-heated oven at 180ºC for approximately 4 minutes, until golden.
The tuna:
Cut the tuna fillet into 1" batons of about 100g per portion. Wrap them in oiled cling film and season with salt and coarsely ground black and white peppercorns. Roll them tightly, tie off the ends refrigerate until needed Poach them in simmering water for a minute, once the outside starts to go brown remove them.
Cut open the cling film and remove the tuna, roll the batons in hot oil to colour the outside. Slice and serve on the salad with cresses dotted around.
Chefs note: The salad once prepared can easily be kept for 24 hours, it gets better! Also, the tuna can easily be rolled into the cling film the day before cooking them. 
To serve: 
Serve the dishes with Koppert Cress living ingredients. 
Recipe: Mark Dodson, Olivier Certain from the Masons Arms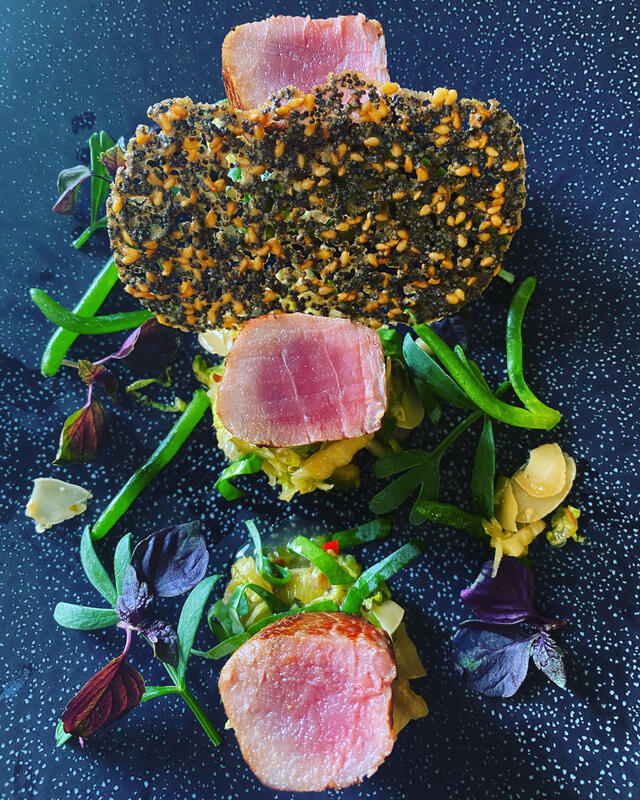 Related recipes
Gastronomical masterpieces
Related products
Say yes to the cress