Ingredients
(For 4 portions)
Mousse and topping:
½ punnet Yka Leaves
4 pieces Paztizz Tops
2 punnets Honny Cress
180gr natural yoghurt
100gr whole fresh raspberries
100gr crushed raspberries
60gr x 2 caster sugar
3 egg whites (from medium eggs)
50ml double cream
5 small gelatine leaves
20ml coconut oil
Biscuit (base):
90gr ginger biscuit
40gr unsalted butter
Method
Mousse and topping:
Mix the crushed raspberries with 60gr of the caster sugar and add them to the plain yoghurt. 
Soak the gelatine leaves in cold water. 
Chop finely the Yka Leaves, keep ½ tsp aside and add the remaining to the yoghurt and raspberry mix. 
Bring the double cream to simmer, squeeze out the water from the gelatine leaves and add them to the cream. Whisk well and let cool down for a few minutes. 
Whip the egg whites to "soft pick" stage. 
Mix together the raspberry yoghurt mix with the warm double cream with the gelatine and fold gently the egg white into the mix to make a light mousse. 
Cut half of the whole raspberries into two and arrange them around the circle ring /mould, on top of the biscuit base. 
Fill the ring with the raspberry yoghurt mousse and let set for a minimum of one hour in a cool place. 
Meanwhile, mix the other 60gr of caster sugar with the ½ tsp of chopped Yka Leaves. 
Dip half of the raspberries in the coconut oil and toss them in the Yka Leaves sugar. 
Lift the ring from the mousse and top them with the raspberries tossed in Yka Leaves sugar, the plain raspberries, the Honny Cress and one piece of Paztizz Tops on each. 
Serve. 
Biscuit (base):
Using a mixer, blend the biscuit to crumbles and add the melted butter on top. 
Mix well and divide the biscuit mix between the four rings. 
Press nicely with the back of the spoon in order to make the base. 
Let set in a cool place. 
Once cold and set, it's ready to fill with the mousse. 
Recipe: Franck Pontais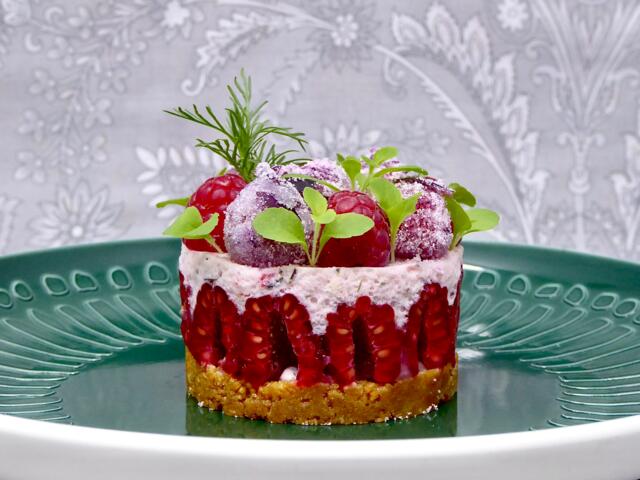 Related recipes
Gastronomical masterpieces
Related products
Say yes to the cress