Ingredients
(For 12 canapes)
½ punnet Tahoon Cress
½ punnet Adji Cress
250gr wild mushrooms
12 button mushrooms
40gr finely diced onions
150gr puff pastry
30gr unsalted butter
2 tbsp olive oil
truffle oil
white sesame seeds
Method
Use a mini muffin baking tray with 12 cases. 
Cook the wild mushrooms with the butter, 1 tbsp of olive oil and the diced onions. 
Blitz in a blender to the size of the duxelles. 
Pour the duxelles into a mousseline cloth of fine sieve and press slightly to remove the excess of water. 
Cut the button mushrooms into quarters and cook them with the rest of the olive oil. 
Lay the puff pastry and cut out 12 circle the size of the muffin case/mould. 
Arrange the circle at the bottom of each case and fill with the mushrooms duxelles. 
Cook the tarts in a hot oven and serve with the button mushrooms, a drizzle of truffle oil, the Adji Cress, the Tahoon Cress and one pinch of white sesame seeds. 
Recipe: Franck Pontais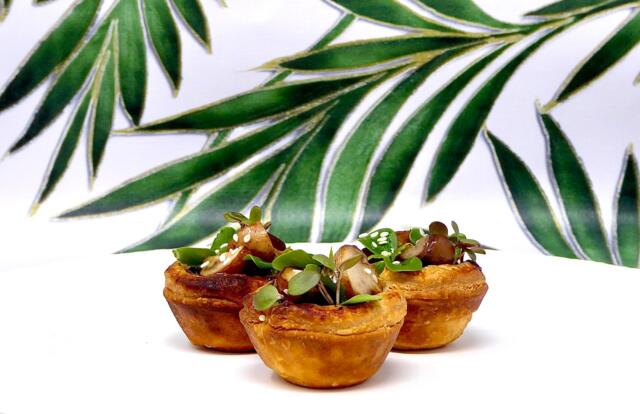 Related recipes
Gastronomical masterpieces
Related products
Say yes to the cress