Ingredients
Soil/crumble of black olive:
120 gr flour
25gr sugar
50 gr butter
vadouvan
curry
1 jar of black olives
1 tablespoon black food coloring
Mushrooms:
4 king boletus
½ pointed cabbage
1/dl white wine
grape seed oil
1 bunch of Enoki mushroom
1 tablespoon coarse salt
syrup of Kaffir Lime Leaves (see other recipe)
Tahoon Cress oil (see other recipe)
1 cup Rock Chives
1 cup Zorri Cress
Method
Soil/ crumble of black olive:
Dry the black olives without moisture at 90°C for 3 hours and grind them into a powder in a food processor.
Mix all ingredients, including olive powder, well by hand to form a crumbly dough.
Dry the whole thing on greaseproof paper at 65°C for about 8 hours.
You can store the whole for a long time in a closed container in the freezer.
Mushrooms:
Cut the cabbage into thin strips and stew together with the sliced Rock Chives some oil, salt and the white in a pan on the big green until it is cooked.
Cut one king boletus into nice pieces, scallop thickness, and the other into thin slices.
Brush the slices and bolete pieces with Tahoon Cress oil and grill them on the Big Green Egg at 210°C.
Brush the pieces last with the syrup from the Kaffir Lime Leaves.
Arrange the whole on a plate and add some Zorri Cress for the spicy touch.
Recipe: Leonard Elenbaas (BBQ Pitmaster Community) and Eric Miete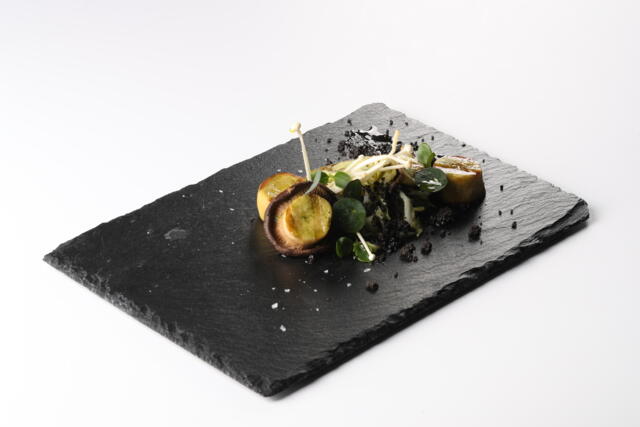 Related recipes
Gastronomical masterpieces
Related products
Say yes to the cress