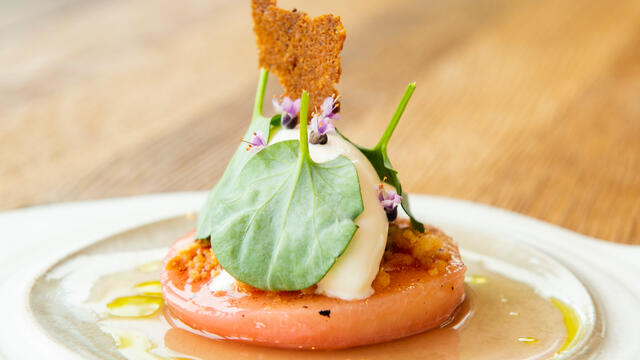 Vine peach, riesling, hazelnut and Syrha Leaves
We see a trend in the use of the cresses in Heiko Lacher's desserts from Restaurant Anima. He mainly chooses cresses with the sour notes.
Ingredients
Syrha Leaves®
Zallotti Blossom
Basil Cress oil
For the pickled peach:
15 cl of water
30 cl orange juice
2 cl lemon juice
tonka bean
peels and parures of peach
vineyard peaches
For the Riesling ice cream:
8 cl riesling
2 cl lemon juice
1 dl cream
15 g meadow honey
50 g of brown butter
100 g egg yolk
3 g stabilizer
coarse salt
For Basil Cress juice:
15 g of leafy green from Basil Cress
1 dl peach juice
For the hazelnut crunch:
50 g roasted hazelnut
50 g of butter
50 g of flour
50 g of brown sugar
grate 1 lemon
Method
Bring water and juice to the boil with tonka bean, peels and parures, allow to infuse, pass through a sieve and poach the peaches. Make an anglaise of all ingredients, cool back and turbine.
Blend the ingredients for the juice, strain and reserve cool. Mix all the ingredients for the crunch and bake in the oven at 160°C until golden brown. Garnish the plate with the Basil Cress and oil.
Syrha Leaves® are the blue-green leaves with a silvery glow, from a plant that was already appreciated by the Egyptians and Greeks and is related to the rhubarb.
The plant is quite common throughout Europe. Oily dishes, in particular, become more digestible due to the emulsifying capacity of this plant.
***

Restaurant Anima

In Wöhrden 5 – Tuttlingen, Duitsland
T  0049 7461 7803020
www.restaurant-anima.de
Recipe: Heiko Lacher
​Source: Pâtisserie & Desserts - 51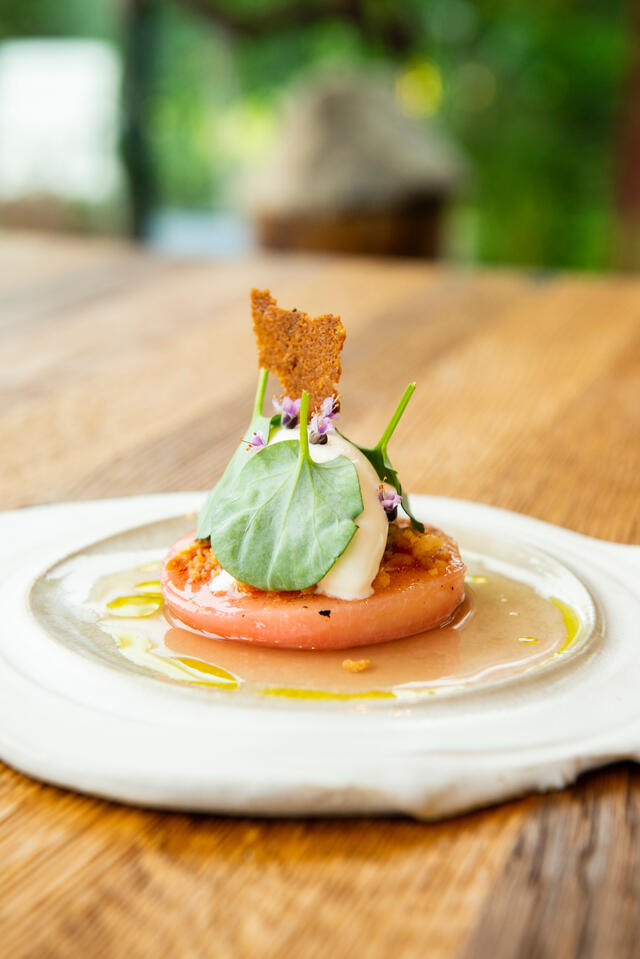 Related recipes
Gastronomical masterpieces
Related products
Say yes to the cress