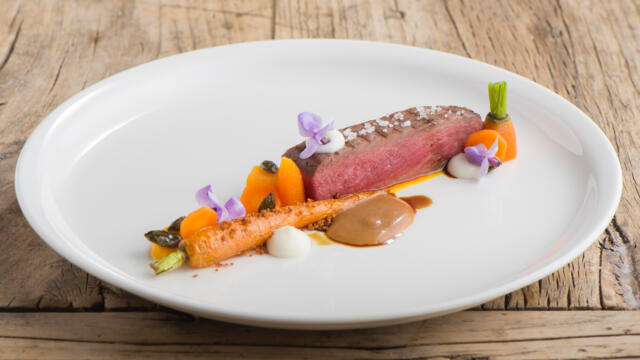 Beef steak, carrot and sour cream
Marcel Fischer is a versatile chef, lost to his Thuringia and her rich eating traditions. The cresses are an obvious extension of this for him.
Ingredients
sweet candied pumpkin seeds
sour cream gel
thickened balsamic vinegar
Bean Blossom
For the steaks:
1 kg of beef steaks
200 g oak wood chips
1 cl beetroot syrup
1 cl balsamic vinegar
fleur de sel
For the carrot puree:
6 sand roots
5 cl rapeseed oil
salt
For the braised carrots:
2 sand roots
4 sprigs of thyme
1 cl white wine vinegar
10 g caster sugar
40 g of thistle oil
laurel
aniseed
For the pickled sand root:
2 sand roots
4 cl white wine vinegar
20 g of sugar
laurel
mustard seed
Cardamom Leaves
For the sour cream sauce:
200 g of sour cream
5 dl veal gravy
2 chopped onions
salt
Bourbon pepper
Method
Smoke the steaks cold on oak for 45 minutes. Mix and reduce the syrup and vinegar, rub the steaks with it and marinate in the refrigerator for 6 hours.
Vacuum the steaks, cook in a 54°C water bath for 10 minutes, then fry briefly on the lava grill. Season with the fleur de sel.
Peel and cut the carrots, mix and vacuum all ingredients, cook in a water bath and blender until smooth.
Mix all the ingredients for the braised carrots on a baking dish and cook in the oven at 150°C.
Mix all the ingredients for the pickled sand root and weck. For the sauce, turn on the onion without colouring, mix in the sour cream and let it caramelize.
Add the veal gravy, cook until thick and pass through a sieve and season. Dress all components on a plate, garnish with the Bean Blossom and spoon the gravy with it.
***
Spa & Golfresort Weimarerland
Weimarer Str. 60, Blankenhain
Tel. 0049 36459 61640
www.golfresort-weimarerland.de
Recipe: Marcel Fischer
Source: Culinaire Saisonnier 88 - Spring 2018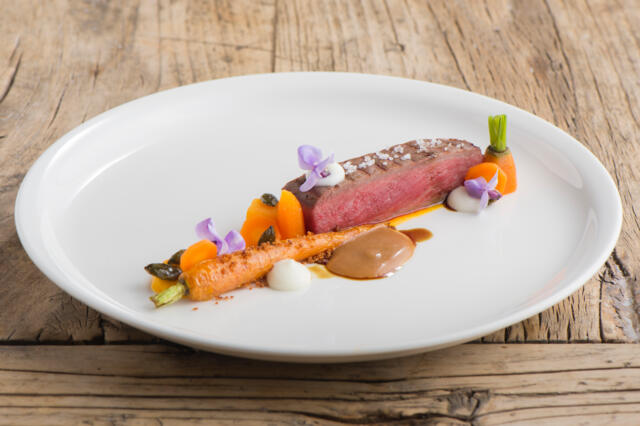 Related recipes
Gastronomical masterpieces
Related products
Say yes to the cress