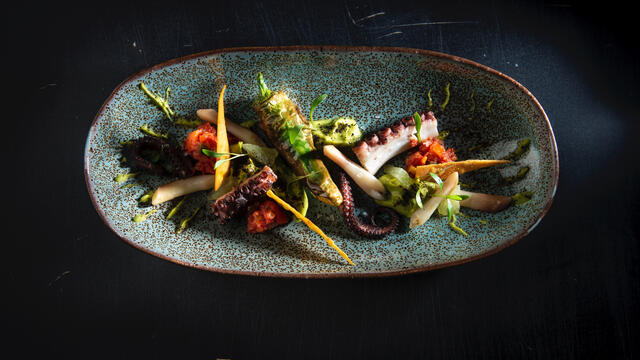 Pulpo Mexicano
Grischa Herbig just cooks what he likes. Where the environment has no limit, so does his kitchen.
Ingredients
scrambled lemon powder
Ghoa Cress®
lime wedges
pulpo
court broth with red wine
razor clams
For the razor clam marinade:
olive oil
30 g Limon Cress
lime juice
allspice spelt
pepper
salt
sugar
For the cream of avocado:
2 avocados
lime juice
lime zest
5 g Ghoa Cress
salt
sugar
pepper
allspice spelt
chlorophyll
ascorbic acid
For the fermented salsa:
600 g diced cherry tomatoes
6 jalapeños
6 garlic cloves
6 unripe mangoes in cubes
100 g tomatillo
60 g shallot brunoise
10 g of salt
40 g apple cider vinegar
juice and grate of 4 limes
200 g of tomato paste
150 g of honey
4 cl of ferment
1 g guarzoon
2 tsp caraway seeds
1 tsp coriander seeds
1/2 tsp white pepper
For the paprika puree:
1 case of bell peppers
salted water
1 lemon stem
lime leaf
agar
citras
For the nachos:
250 g of cornflour
100 g wheat flour
250 g of water
2 tbsp olive oil
salt
curry oil
Maldon salt
Method
Briefly blanch the razor clams, remove the meat, vacuum with the marinade and cook in the 85°C steam oven for 6 minutes.
Make a smooth avocado cream from all ingredients. Vacuum the clean pulpo with the court broth and cook in the 85°C steam oven for 3 hours.
For the salsa, mix the tomato, jalapeño, garlic, mango, tomato puree, shallot, salt, apple cider vinegar, lime, tomato paste, honey, guarzoon and ferment and blender everything.
Roast the spices, quench with the liquid, add to the first mass, vacuum and leave to ripen at room temperature for 24 hours.
Then keep cool and drain well before use. Wash and clean the peppers, cover with salted water and add the lemongrass and the lime leaf.
Cook covered, pass and blend the bell pepper. Let the mass drain overnight and make a gel of the juice with agar and citras. Mix with the paprika pulp.
Make a dough from all ingredients, let it rest, roll out thinly and fry in a cast iron pan.
Cut into small triangles, baste with curry oil, sprinkle with Maldon salt and bake in the oven at 150°C for 5 minutes. Dress on the plate and garnish with the Ghoa Cress®.
***
Restaurant La societé

Kyffhäuserstraße 53, 50674 Köln, Duitsland
Tel. 0049 221 232 464
www.restaurant-lasociete.de
Recipe: Grischa Herbig
Source: Culinaire Saisonnier 92 - Spring 2019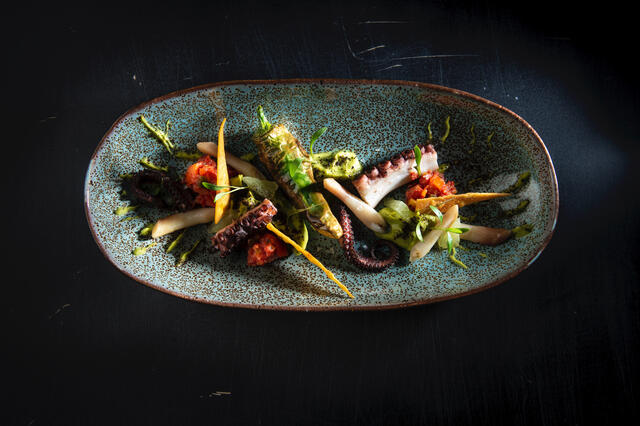 Related recipes
Gastronomical masterpieces
Related products
Say yes to the cress