Ingredients
(For 4 bowls)
Potato curry:
2 punnets Rock Chives
1 punnet Atsina Cress
850gr peeled and diced potatoes
1 large diced red onion
1 small tin (400ml) coconut milk
100ml water
200ml sour cream
1 full tsp curry powder
1 full tsp ground cumin
Yoghurt bread:
300gr self-raising flour
300gr plain yoghurt
½ tsp baking powder
50gr melted butter
1 tsp finely chopped garlic
Method
Potato curry:
Place the diced potato and red onions in a heavy saucepan and add the coconut milk, the curry powder, and the ground cumin. 
Cook (simmer) for 15 to 20 minutes, stirring from time to time so the potatoes don't stick to the bottom of the pan. 
Once cooked, mix in the curry one punnet of freshly cut Rock Chives. 
Divide into 4 bowls and serve with the yoghurt bread, the freshly cut Atsina Cress and the remaining Rock Chives. 
Yoghurt bread:
Mix the finely chopped garlic and butter. 
Mix the flour, baking powder and yoghurt. 
Form a dough and let rest for 2 hours in the fridge. 
Divide the dough into 8 to 10 small balls and lay with a roller pin. 
Cook each bread on a hot grill and brush with the garlic butter before serving. 
Recipe: Franck Pontais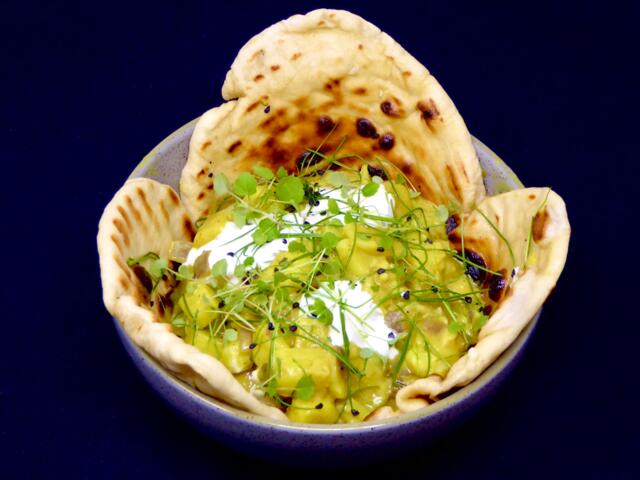 Related recipes
Gastronomical masterpieces
Related products
Say yes to the cress