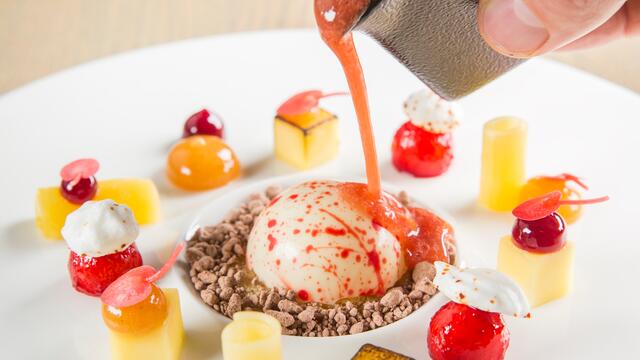 Pear, mango and Apple Blossom
Alexander Wulf of the St. Jacques restaurant: "It takes some intelligence from the chef, but once you have discovered the possibilities and the flavours of the cresses are etched in your memory, the Cressperience for the guests can begin."
Ingredients
half white chocolate balls
pickled mango cubes
small white meringue rosettes
Apple Blossom
gel of "Mors"
For the stock:
the red juice of pear and mango
Scarlet Cress
For the red pear balls:
2 dl red juice of pear and mango
100 g Apple Blossom
2 pears
For the pickled pear slices:
pear
clear juice of pear and mango
For the pear gel:
1 dl white juice of pear and mango
1 g of agar
For the dark chocolate soil:
100 g pure couverture
40 g of maltodextrin
salt
pepper
Method
For the stock, vacuum the juice and the Apple Blossom, infuse for 6 hours in a 62°C water bath, pass through a sieve and serve warm.
Make balls of pear without skin, vacuum with the other ingredients and cook in a water bath at 62°C. Vacuum the two components for the inlaid pear slices.
For the gel, bring the juice and agar to a boil, allow to harden and blend smoothly. Melt the couverture, add the maltodextrin and season with salt and pepper.
Serve the earth in a deep plate and put the white chocolate ball on it. Dress the other components around and pour the warm pear stock onto the chocolate ball. Garnish the dish with the Apple Blossom.
***
Burgstuben Residenz
Feldstrasse 50 – Heinsberg-Randerath
T  0049/245 330 6980
www.burgstuben-residenz.de
Recipe: Alexander Wulf 
Source: Pâtisserie & Desserts - 52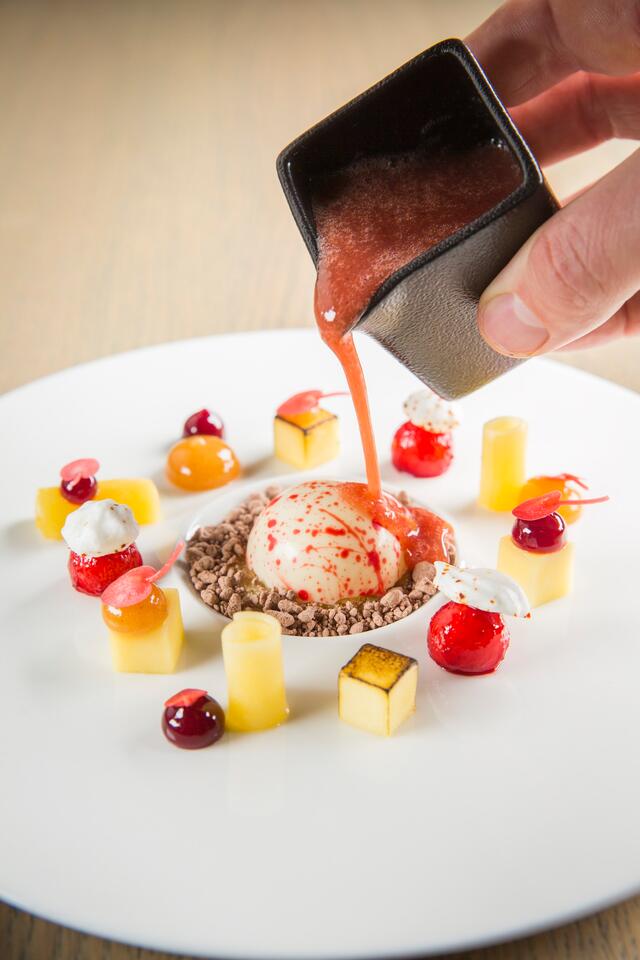 Related recipes
Gastronomical masterpieces
Related products
Say yes to the cress