Ingredients and method
Beetroot:
4 pieces of beetroot  
40 ml water 
5 g salt 
3 g sugar 
5 cumin seeds 
a little harissa 
lime oil 
elderflower syrup 
60 g Kome Koji powder 
Cardamom Leaves
Wash the beetroot and vacuum-cook it with the other ingredients in a water bath at 85°C for 90 minutes. Remove and cool in ice water. Remove the beetroot from the vacuum and drain in a sieve. Dust with the Kome Koji after 2 hours and leave to mature for 2 hours at room temperature.  
Place in a glass dish, add Cardamon Leaves to the smoking pipe and smoke for 2 minutes. 
Goat cheese:
100 g goat cheese 
1 lime  grated
30 ml olive oil  
Mash the cheese with the other ingredients to loosen it up. 
Garnish :
maple cream mixed with a little soy sauce  
Tahoon Cress  
1 Floregano Blossom
Recipe: Heiko Antoniewicz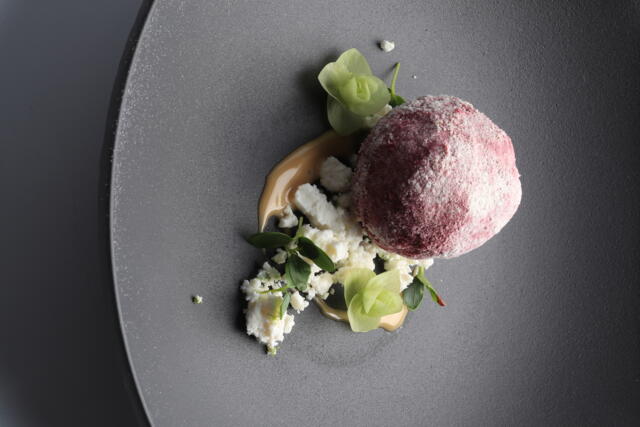 Related recipes
Gastronomical masterpieces
Related products
Say yes to the cress