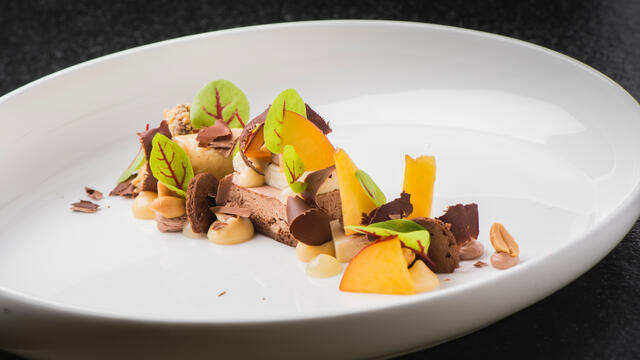 Nectarine, chocolate and yuzu
Pâtissiers Marco Akuzun and Alexander Huber make recognizable, but certainly not everyday desserts at the Top Air restaurant.
Ingredients
grate of pure couverture
gel of nectarine
Vene Cress
roasted peanuts
chocolate biscuit
slices of pickled nectarine
chopped peanuts
For the chocolate and peanut mousse:
dark chocolate biscuit
35 cl of creamy cream
200 g pure couverture
5 eggs
100 g of sugar
For the chocolate and peanut ganache:
100 g of cream
30 g butter
80 g pure couverture
1 tbsp peanut paste
For the nectarine sorbet:
400 g sugar water 1:1
800 g nectarine puree
2 g stabilizer
2 leaves of gelatin
For the nectarine mousse:
200 g of nectarine puree
3 leaves of gelatin
juice of 1/2 lime
40 g of sugar
70 g of lumpy cream
For the nectarine ragout:
1 nectarine in fine brunoise
40 g of sugar
2 cl grand marnier
2 cl of water
1 mp gelespessa
For the cream of pure couverture:
2 dl warm anglaise
100 g pure couverture
Method
For the mousse, melt the couverture au bain-marie. Separate the eggs, beat the yolks with the sugar ruban and add the melted couverture.
Beat the egg whites until peaks, mix with the chocolate mixture and fold in the cream. Place a rectangular shape with the biscuit, fill the shape with the mousse and let it set cool overnight. 
For the ganache, heat the cream, the butter and the peanut paste. Let everything dissolve well and mount the couverture in this ganache off the heat. Fill the ganache in small spheres, allow to set and roll through the chopped peanuts.
For the sorbet, bring the sugar water to a boil, dissolve the soaked gelatin and the fruit puree and add the stabilizer. Blend the mixture well, freeze in frix or paco cups and turbine.
For the mousse, bring the fruit puree, sugar and lime juice to a boil. Dissolve the soaked gelatin in it, let it cool and fold in the lumpy cream. Fill in small square shapes.
For the ragout, make a caramel of the sugar, deglaze with the grand marnier and the water and tie with gelespessa.
Pour on the nectarine and allow to cool. Lightly heat the anglaise for the cream, dissolve the couverture in it, beat it cold and airy and reserve. Cut nice cubes of the chocolate mousse and dress all the components around it.
***
Restaurant Top Air 
Flughafen Stuttgart, Terminal 1 
Ebene 4 – Stuttgart 
T  0049 711 9482137  
www.restaurant-top-air.de
Recipe: Marco Akuzun & Alexander Huber
Source: Pâtisserie & Desserts - 47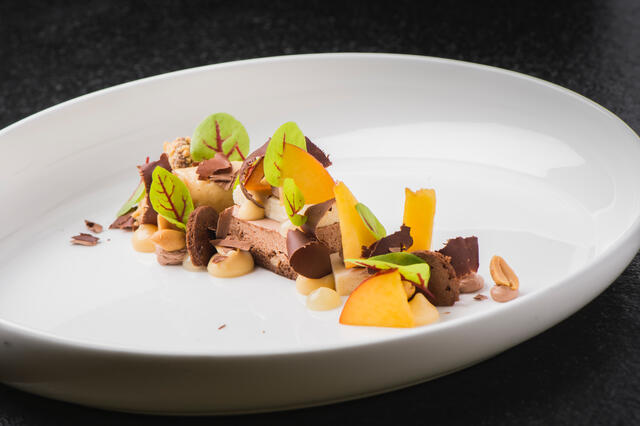 Related recipes
Gastronomical masterpieces
Related products
Say yes to the cress