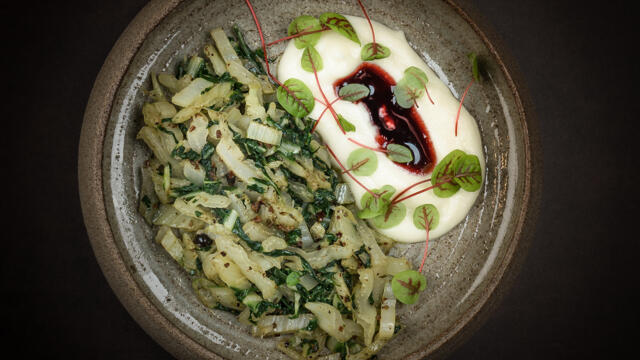 Short braised Swiss chard with turnip mayonnaise, elderberry syrup, juniper and Vene Cress
Ingredients
(For 4 portions)
flounder Swiss chard
flounder turnip
elderberry syrup
juniper - Verstegen
Iluigi olive oil
Arqan argan oil
1 cup of Vene Cress - Koppert Cress
Black pepper - Verstegen
Coarse sea salt - Verstegen
Method
Turnip mayo:
Peel the turnips and then cut into large pieces. Cook these in water with some salt.
Then mix the turnip and a dash of cooking liquid, add a little mace and a dash of argan oil.
Possibly season with extra pepper and sea salt. Let cool in the refrigerator.
Juniper:
Coarsely crush and chop 2 tablespoons of juniper berries.
Swiss chard:
Wash and chop Swiss chard finely into 1 cm pieces, leaf and stem. Stew in a dash of olive oil.
Season with black pepper, sea salt and juniper.
Add some turnip boiling liquid.
Stir well and until crispy without coloring.
To finish off:
Place warm Swiss chard on 1 side of the plate.
Spoon a spoonful of cold turnip mayo on the other side. Make a hole and fill it with elderberry syrup.
Finish with some vene cress.
Recipe: Frank Fol - The Vegetables Chef®
Photo: Wim Demessemaekers, Photographer | @wim_dmskrs
Preparation time: 30 minutes 
Techniques: veggies 
Plate: Wild Grey Bowl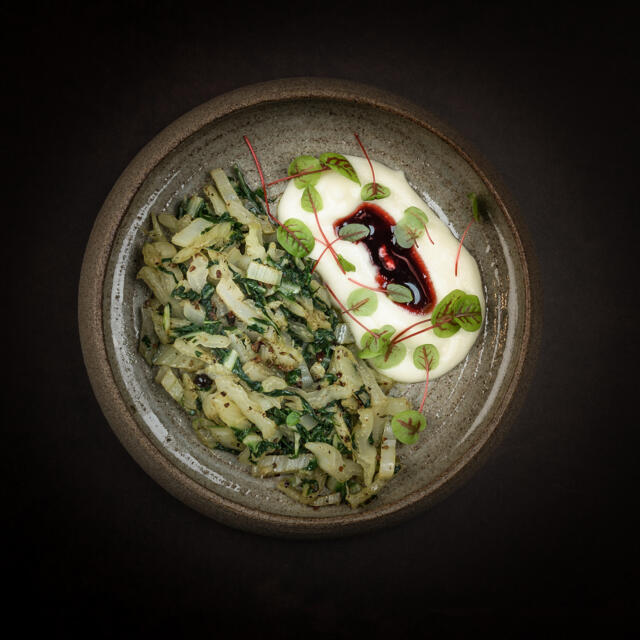 Related recipes
Gastronomical masterpieces
Related products
Say yes to the cress