Ingredients
(For 4 portions)
1 punnet BroccoCress
2 punnets Mustard Cress
16 flat mushrooms
4 medium eggs
2 tbsp cider vinegar
750ml water
250ml BroccoCress sauce
1 pinch white ground pepper
1 pinch black cracked pepper
2 pinch ground nutmeg
1 tsp olive oil
BroccoCress sauce:
2 punnet BroccoCress
250ml milk
30gr butter
30gr flour
30gr grated mature cheddar cheese
1 pinch salt
Method
Cook the flat mushrooms in the oven with a drizzle of olive oil. 
Make a duxelles with 6 mushrooms and season. 
Cut another 2 cooked mushrooms into fine slices. 
Poach the eggs in boiling water with the vinegar. 
Plate up with the remaining whole mushrooms using the poached eggs, the duxelles, the BroccoCress sauce and the cresses. 
BroccoCress sauce:
Bring the milk to simmer. 
Make a roux with the flour and the butter and add the hot milk. 
Whisk well and incorporate the grated cheese and the salt. 
Pass the sauce through a fine sieve and mix in the freshly cut BroccoCress. 
Serve immediately. 
Recipe: Franck Pontais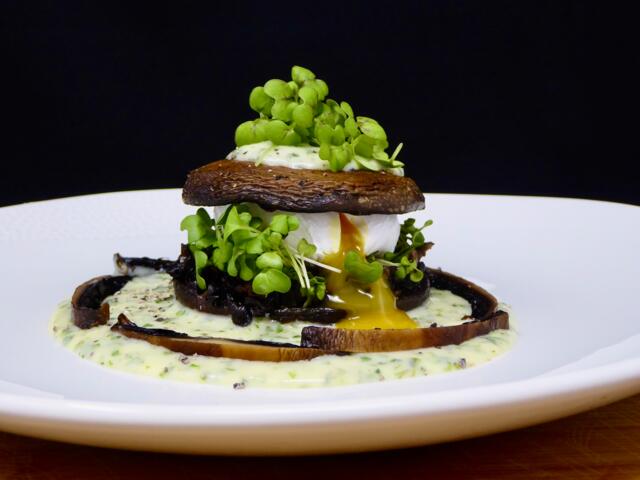 Related recipes
Gastronomical masterpieces
Related products
Say yes to the cress